by John Butler
FOR the third week running, there were testing, wintry conditions for both sides to cope with, and it was Coventry, noticeably raising the level and pace of their game, who moved away from half-time to complete a comprehensive double over the division's bottom club.
In front of a 1,357 home crowd, which included a very big turnout of former players, the first half in the heavy, clinging mud was strange in many ways. Cov found it difficult to raise their game to the level needed while Fylde competed well to somewhat bely their league position.
The second half, though, was a totally different story with Fylde, having given so much, suddenly finding they had little left as they battled deep in defence and conceding a third penalty try, to add to the two in the first half, which rather summed up the number of infringements they  made.
Pre-match, the former players had gathered for their Cowshed Lunch in honour of club patron Harry Walker, shortly due to celebrate his 103rd birthday.
The first half was indeed something of a non-event, conditions making it a real leveller. Both sides struggled to overcome the conditions, with Fylde, with just three wins to their name, competing much better than they had done in the earlier fixture.
Opportunities were really pretty limited. Max Trimble probably came the closest after a break out from defence, whilst several close-in driving line-outs were held as somehow, Fylde kept the home forwards out.
Two penalty tries ,though interspersed, were evidence Fylde were having trouble keeping their line intact from close-in situations, coming after 18 minutes and then deep into first-half added on time, at which point Fylde hooker Ben Gregory was yellow carded for his part in the action.
Fylde fly-half Greg Smith slotted a good 40-metre penalty after 34 minutes, leaving Cov 14-3 to the good at the break.
On the resumption Cov had much the better of field positions, but it was to take through to the 63rd minute for the lead to be extended.
All the play had been deep in Fylde's half, frustrations growing with the visitors being continually penalised.
Cov, though, had certainly raised the pace and level of their game and it came as no real surprise when a third penalty try was awarded. That factor alone being a new Coventry club record for a single match.
With referee Callum Sharp finally losing patience with Fylde's indiscretions, the try was awarded and Nick Ashcroft yellow carded.
21-3, with worse to follow immediately for the visitors as winger Henry Hadfield became the third visiting player to be yellow carded.
Cov were now piling on the pressure, Fylde's desperation in defence being mirrored by the number of cards issued, and in the last quarter, with conditions certainly not getting any easier, they produced four more tries as their attempts at meaningful running rugby finally brought rewards.
First on 66 minutes, replacement hooker Phil Nilsen ploughed his way over, Will Maisey converting.
Three minutes later, a long breakout, led by another replacement, James Stokes, saw a long downfield kick leave Fylde defending desperately, Tom Emery being first up to claim the try and Maisey converting well for 35-3.
Still time for two more tries, the last equalling the club record total set last season.
Firstly, the sponsors' man-of-the-match George Oram claimed try number six, once again after a long-range move and big kick downfield which had Fylde retreating once more. The conversion this time failed.
Then in the 77th minute Cov scored again to equal the record of 130 tries in a league season, set 12 months ago.
Fittingly, it was a newcomer, replacement back row forward from the Northampton Academy, Paddy Ryan who claimed the touch down, Maisey converting with ease to put the seal on victory and further cement top spot in the division.
With Darlington Mowden Park failing to pick up a bonus point in their win, Cov's lead at the top on National League One inched further away to 16 points.
It had certainly been a tough, no nonsense type of afternoon in the testing, muddy conditions. The pitch, whilst being understandably  heavy, was nevertheless, further testament to the hard graft put in by head groundsman Eric Richardson.
Coventry: tries penalty try 3 (18, 40, 63), Nilsen (68), Emery (70), Oram (74), Ryan (78);conversions Maisey 3 (68, 71, 79). Fylde: penalty Smith (35).
Coventry: Emery (Stokes 46), Knox (Tolmie 71), Grove, Fenner, Trimble (Emery 69), Maisey, Brazier (White 56), Brown (Jeannot 49), Tolmie (Nilsen 56), Jeannot (Boulton h-t), Jubb, Oram, Makaafi (Ryan 46), Daynes, Narraway.
Fylde: Carleton, Hadfield, Wilkinson, Fowden, Bailey, Smith, Dolly, Lewis, Gregory (Burtonwood 60), Irving, Garrod (Ashcroft 60), Parkinson, Corrie, Hopwood, Fairbrother.
Referee: Callum Sharp.
Attendance: 1,357.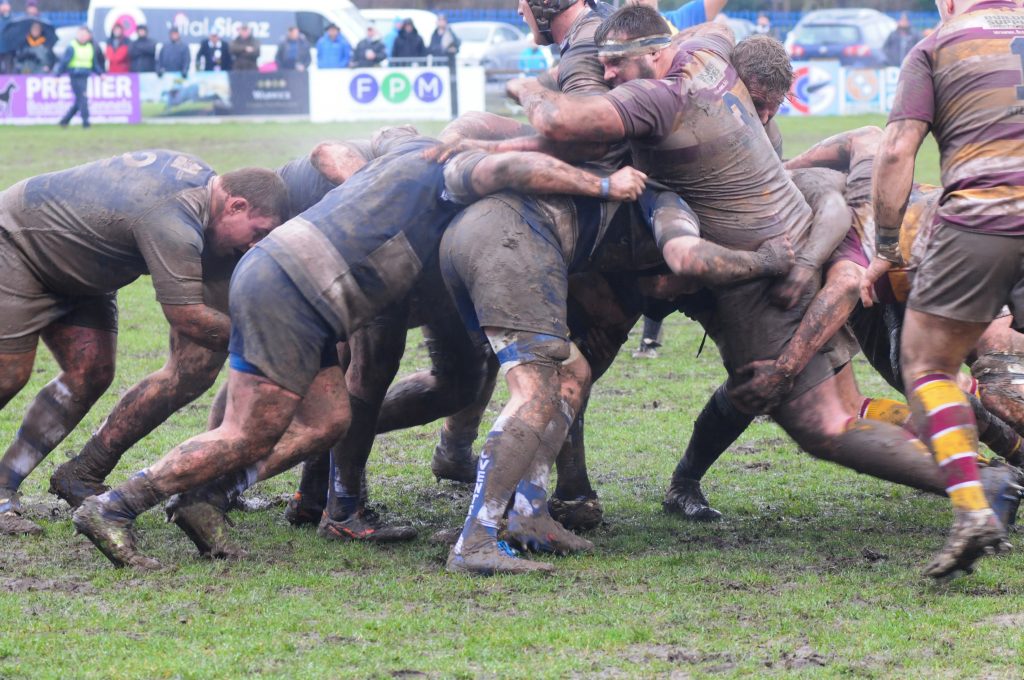 Pictue by Nick Meredith