by John Butler
COVENTRY'S march towards  the summit continued with a six try to one beating of a resilient Cambridge in another excellent match at Butts Park Arena.
With Darlington Mowden Park failing to pick up a point in defeat at Plymouth, Cov's lead at the top of National League One increased to 21 points.
Thanks largely to the efforts of their forwards, Cambridge kept themselves reasonably in contention for half of the match, but after a brief flurry from the visitors just after half time, superior all-round strength, power and pace saw Cov move away with 21 unanswered second-half points.
Victory, the 21st in this record-breaking season, saw the present squad draw level with the achievements of the 2014/15 side in terms of the number of league matches won with still eight matches to come.
Led out by centre Heath Stevens on his 100th club appearance, it took Cov just under three minutes to move in front, and what a wonderful try it was to set the tone.
In front of another excellent home crowd of 1,689, Cov moved the ball purposely through numerous phases before lock forward Tom Jubb was on hand to receive the scoring pass for his first try of the season, which Will Maisey converted.
On eight minutes, after James Stokes had knocked-on, the Blue and Whites were penalised at the resulting scrum, fly-half Ben Penfold landing the easy penalty for 7-3.
Within three minutes though, the lead incresed. With Cov attacking down the left, Rob Knox, over from the right, took the pass at real pace and nothing was going to stop him, Maisey again adding the extras.
For a fair while following, despite spending a lot of time deep in Blood and Sand territory, Cov could not pull out another score.
Several catch and drives were held up by really solid Cambridge defence, the visitors also proving to be more potent at ruck situations, guided by the wily Darren Fox.
The visiting line-out, several times over however, was proving to be something of an Achilles heel for them which all helped to keep pressure on the visiting line.
Finally, after 34 minutes, Cov secured try number three. The excellent Alex Grove made a lovely half-break with Jubb, up in support, claiming his second try of match. Maisey this time sliced his conversion wide.
After the home forwards had won yet another line-out against the Cambridge throw, the visitors themselves struck right on half-time. With the Cambridge forwards battering their way into the Cov 22, that in itself had previously been a rare occurrence, Ashley Elvers, one of several visitors with a previous Coventry link, made further ground and when the winger was halted, lock George Bretag-Norris powered over for a deserved try. Penfold converted, leaving Cov 19-10 in front at the break.
Right on the restart, Cambridge again took play to their hosts, solid defence – which was another impressive home statistic throughout – keeping them at bay.
It was to prove to be the last time Blood and Sand were to threaten in attack, with Cov moving past the twenty-points mark after 51 minutes.
A penalty to touch set up another rolling maul, only this time for it to be successful, Knox joining in from the right wing to claim his second of the match and eleventh overall of the season. Bonus point safely secured, with Maisey adding on the conversion from a wide angle, and Cov had distanced themselves at 26-10.
Knox was then again involved on the counter before Pete White knocked on, but by now all the pressure was coming from the Butts Park men.
With the penalty count rising to 12-6 in Cov 's favour, the Cambridge forwards, so secure in the tight previously, were now showing signs of tiring and it was no real surprise when the fifth try came, largely through the efforts of the forwards.
It was Luke Narraway who finally plunged over, Maisey landing a quite superb conversion to move Cov to 33-10.
Time, though, for more. Having come close to a five-metre pushover, the forwards continued to pile pressure on. After first warning the Cambridge forwards, referee Jamie Leahy then saw Cov thwarted as they drove again, the ninth penalty try of the season following to close out the scoring at 40 -10.
Cambridge briefly probed themselves, but could find no way through, with Cov, deep injury, coming within a whisker of adding try number seven.
Again, man-of-the-match Knox was heavily involved, only to see his final try-scoring pass go into touch, instead of the supporting hands.
With news of the Darlington defeat coming through, inevitably questions were asked as to when might Cov clinch the National League One title?
First things first, though. The rearranged visit to Darlington MP comes up next Saturday. Victory there would not only secure the club record number of league wins in a season, but would also go a long way to answering that earlier question.
Coventry: tries Jubb 2 (2, 33), Knox 2 (10, 50), Narraway (67), penalty try (77); conversions Maisey 4 (4, 11, 51, 68). Cambridge: try Bretag-Norris (40); conversion Penfold (40); penalty Penfold (8).
Coventry: Stokes (Maisey 80); Knox, Grove, Stevens (Tuitupou 51), Matoto; Maisey (Fenner 68), White; Brown (Jeannot 26), Nilsen (Tolmie 51), Boulton, Dacres (Preece 71), Jubb, Makaafi (Nilsen 60), Preece (Narraway 65), Narraway (Daynes 45).
Cambridge: Ayrton (Petrides 73); Petrides (Stanway 63), Portsmouth, Hema, Elvers; Penfold, Keenan (Barker 57); Morley, Griffiths (Rayment 45, Griffiths 79), Painter (Meek 57), Bretag-Norris (Peters 45), Conquest, Fox (Bretag-Norris 63), Laxton, McCloud.
Referee: Jamie Leahy.
Attendance: 1,689.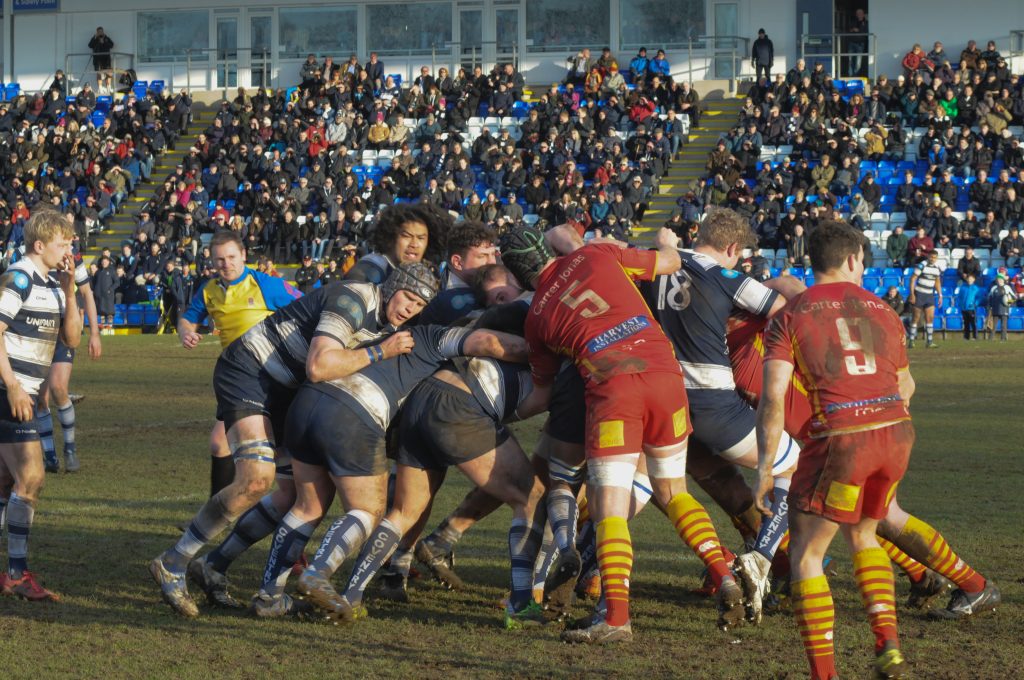 Tom Jubb at the back as Cov's forwards drive on. Picture by Nick Meredith