by John Butler
UNBEATEN Coventry march on!
Second v third before kick-off always suggested a good home test, and for nearly half of this match, that was certainly true.
However, with Cov's forwards enjoying increasing control the longer the game progressed and again with a mighty replacement bench to call upon, the second half was a very different story.
The stats show that Cov won the second half 17-0, and that really was a pretty true reflection.
Another fine performance from the forwards, with several stand-out candidates, and allied to that, some fine running rugby together with a rock solid defence which in fact has only conceded five tries in four matches.
Taking that a stage further, only the have been scored against the Cov defensive wall since the opening 10 minutes at Hull Ionians; conservatively, 400 minutes of rugby.
Blackheath arrived with a very similar playing record, just one bonus point behind Cov but unbeaten, and for some time, they did pose quite a number of problems, particularly with ball in hand. For some ten minutes, they were also in front.
First blood went to Coventry after just 2 minutes 36 seconds. Attacking the railway end, after James Stokes booted a long ball upfield, Phil Nilsen and Latu Makaafi were heavily involved, before Nile Dacres stormed through a rather bemused defence for a fine try, converted by Will Maisey.
Within four minutes, however, Cov were to concede a rare try and ironically it owed as much to their own shortfalls as it did to their opponents. Blackheath scrum-half Josh Davies kicked high over his forwards, Pete White moving back failed to gather, as did Rob Knox, before the advancing Mark Cooke grubber kicked on and just won the race for the touchdown. Fly-half Joe Tarrant converted for 7-7 after eight minutes.
Blackheath were enjoying some good, positive moments, a dangerous attack out of defence winning a penalty inside the home 22', leaving Tarrant with the easiest of kicks for a  10=7 lead.
Although the Club forwards succeeded in ruining an early Coventry scrum, Blackheath were destined not to score again as Cov's control increased as the match progressed.
On 21 minutes, a good scrum from the Butts Park men won a penalty award, Maisey kicking his side into the visiting 22. Slick handling saw Rob only just held on the wide left, before Blackheath infringed again, leaving Maisey to level matters with a simple penalty after25 minutes.
Sam Tuitupou then departed with a thigh injury before another solid scrum once more led to a penalty. Blackheath countered well, but on 32 minutes a delightful offload from Know saw Alex Grove held with a two-man overlap outside.
A further Maisey penalty eased Cov back in front at 13-10 before Ben Palmer, on as replacement for Tuitupou, was yellow carded for kicking the ball away, that after Cov had been previously warned.
Blackheath lost the resultant close in line-out before deep into added-on time Cov added a second try. An excellent catch and drive from the assertive forwards saw White given space on the right close in, the scrum-half taking full advantage to cross and Maisey converting for 20-10 at the break.
After a hard-fought first half, the next score was likely to prove important and it was Cov who provided it to open up a significant lead.
Early home pressure turned the screw and Maisey produced a quite sublime crossfield punt, beautifully taken in his stride near to the Blackheath line by James Stokes and there was nothing the one remaining defender could do about it. Maisey's conversion attempt slipped wide.
Olly Povoas replaced Makaafi who departed after taking a knock, but pressure was now really building on the Kent visitors who were forced to spend increasing amounts of time on the back foot. When they did have possession, the home defence was very watertight and secure.
Cov, attacking hard, did somehow manage to not capitalise on a potential four man overlap, but although Blackheath kept trying to manufacture something, it was Cov who were to open up a 20-point lead.
With Blackheath replacement Hugh McCormick-Houston yellow carded, the home forwards took full control, driving Jack Preece over after a pretty unstoppable catch and drive. Bonus point secured. Will Maisey again saw his kick slide wide, but by now it was damage limitation for the visitors.
Blackheath did make a by now fairly rare incursion into Cov's 22 before they were back in defence, full-back Geoff Griffiths given a yellow card and Cov awarded their first penalty try of the season, now worth seven points on its own.
To their credit, the visitors did make some valiant late efforts, some five or six pick-up and drives failing, however, against the solid home defence with Preece the latest casualty, limping off after first receiving attention.
A fourth straight win for the Butts Park men, but even with the bonus point it was not enough to dislodge Darlington Mowden Park from top spot.
All in all though, another fine team win.
Coventry: tries Dacres (2), White (40), Stokes (42), Preece (62), penalty (68); conversions Maisey 2 (3, 40); penalties Maisey 2 (25, 35). Blackheath: try Cooke (5); conversion Tarrant (6); penalty Tarrant (11).
Coventry: Stokes; Grove (White 79), Stevens, Tuitupou (Palmer 25), Knox; Maisey, White (Brazier 58); Litchfield (Boulton 58), Nilsen (Tolmie 59), Boulton (Brown 29, Litchfield 65), Dacres, Oram, Makaafi (Povoas 47), Preece (Nilsen 80), Narraway (Makaafi 71).
Blackheath: Griffiths; Chapman (Pickersgill 51), Burcham, Cooke (Chapman 78), Lloyd; Tarrant, Davies; King, Miles (Perks 58), Herriott (Scutt 64), Osazuwa, Patrick (English 40), Owen, Bate (McCormick-Houston 29), Baldwin.
Referee: Neil Chivers.
Attendance: 1,455.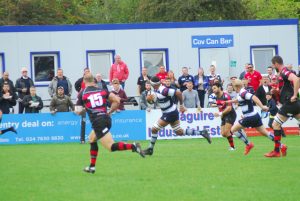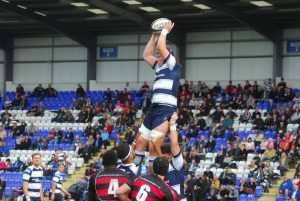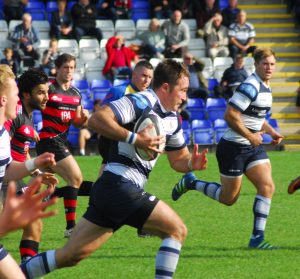 Pictures by Nick Meredith