by John Butler
COVENTRY ultimately moved to a 25th home win in succession, but not, it must be said, without some alarms on the way to the final whistle.
A case to some extent of after the Lord Mayor's show in a match which, ironically, was played in front a senior delegation from the City Council, led by Lord Mayor Tony Skipper.
Credit though where it is due. Rosslyn Park did not play like a side 12th in the division and fully deserved the two bonus points they took away.
Indeed, after Cov had moved smoothly into a 10-point lead inside eleven minutes, Park fought with courage, firstly to lead themselves, albeit briefly and then to turn round all square at half-time before again moving in front in the second half.
Cov were never remotely out of sight. There seemed to be a clear indication that, with all that had gone before and with time away over Easter, they were not quite as switched on as they would have liked.
Consequently, Rosslyn Park came as close as anyone else has achieved in attempting to dent Cov's unbeaten home record, stretching back to the autumn of 2016.
In front of another excellent home crowd of 2,088, Coventry, having received a welcome totally befitting their new title of champions, came out looking sharp. All the early pressure was on the visitors,
with Cov scoring two tries in the opening eleven minutes.
After early forward pressure had been repelled, a lovely flowing wrap-around move saw Max Trimble, over from the left, fly over in some style on the right with Will Maisey's conversion attempt just failing.
On nine minutes, Coventry stole line-out ball, a feature which was to grow later in the second half. More pressure followed with, finally, hooker Scott Tolmie ploughing over for his 16th try of the season, Maisey again being wide with his kick.
10-0, eleven minutes on the clock, were the floodgates really about to open?
Rosslyn Park certainly had ideas of their own about that, striking with two tries inside three minutes. On both occasions, centre Charlie Amesbury finished off , the first coming after a clean break from fly-half Harry Leonard, the second following a sortie down the narrow side. Leonard converted the second, leaving Cov two points down after 18 minutes.
The deficit was short lived. Following good-line out ball, a lovely move left saw Rob Knox this time coming inside, the right wing slicing through without ever looking as if he might be halted to gain his 16th touchdown of the season. This time Maisey landed the extras for a 17-12 lead.
Cov continued to have their attacking moments, but so to did Park. Alex Grove, with a damaged finger, was forced to depart, Tony Fenner replacing him.
James Stokes then enjoyed one of his magical moments, gathering a chip, before kicking ahead and almost adding another try.
Rosslyn Park though were certainly far from out of it, applying more pressure close to the break. Close-in, Luke Narraway received a yellow card with, shortly afterwards, Park levelling as their forwards used their scrummaging power for No.8 Mike Macfarlane to touch down. Unaccountably, Leonard sliced his easy conversion attempt wide, leaving the sides locked 17-all at the break.
Cov made a promising start to the second half, sure in the knowledge much work was needed. A fine move only ended just inside the visitors 22 when Nile Dacres couldn't hold on to a poor pass.
The visitors might have been enjoying an up and down season, but again early in the half they were to move in front for a second time and earn themselves a bonus point.
Possession moved swiftly left, leaving wing Ben Marfo in acres of space and time to run round, leaving Leonard with a much easier conversion attempt for a seven-point lead.
Stung into retaliation, Cov responded on 65 minutes with a 20th try of the season for top scorer James Stokes. A wonderfully weighted kick through from Tony Fenner saw Cov's full-back use his searing pace to claim the try wide out and seal a home bonus point. The angle just defeated Maisey's conversion attempt, but Cov were back to within two points.
Lock George Oram, the subsequent sponsor's man of the match, then made one of his trademark bursts and with pressure continuing, the whole home pack used their strength and power to send replacement Tom Jubb over for try number five, Maisey converting for 29-24.
By now, the Cov forwards, in addition to winning numerous Rosslyn Park line-outs, were also giving their visitors a tough time at the set scrums.
On 73 minutes, head on to the posts, Maisey eased his side two scores in front with a penalty.
Park, though, were far from finished and still pressing, aided it has to be said by some rather mystifying decisions from the match officials, and not to be denied, Leonard kicked a 30-metre penalty six minutes into added on time and, with it, secured a fully-deserved second bonus point.
It had not in reality been a vintage afternoon for the new champions. Nevertheless, five more match points to add to the already impressive tally before the challenging visit to Ampthill next Saturday.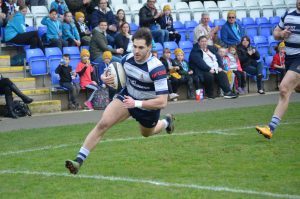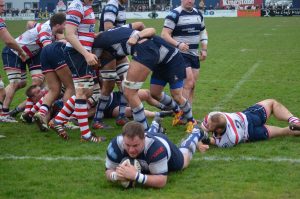 Tries one and two for Cov. Pictures by Nick Meredith
Coventry: tries Trimble (6), Tolmie (11), Knox (19), Stokes (54), Jubb (61); conversions Maisey 2 (21, 61); penalty Maisey (75). Rosslyn Park: tries  Amesbury 2 (15, 17), Macfarlane (36), Marfo (48); conversions Leonard 2 (18, 49); penalty Leonard (80).
Coventry: Stokes; Knox, Grove (Fenner 32), Stevens, Trimble; Maisey, Brazier (White 45); Brown (Boulton 50), Tolmie (Priestley 62), Boulton (Litchfield 28, Brown 68), Dacres, Oram, Hutchinson (Jubb 45), Preece, Narraway.
Rosslyn Park: Robinson; Crane, Amesbury (Grove 30), Barnes (Amesbury 67), Marfo; Leonard, Gash (Crow 76); Nwakor (Wade 70), Bellamy (Vaughan-Edwards 44), Wade (Lovell h-t), Gray (Hudson 67), Frampton, Ovens (Spivey 28), Hudson (Ovens 53), Macfarlane.
Referee: Llyr ApGeraint Roberts.
Attendance: 2,088.