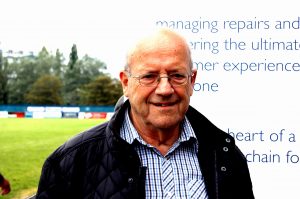 John Butler looks ahead to Saturday's visit of Blackheath
ONE of the oldest fixtures on Coventry's list is with Blackheath, our visitors on Saturday, whose origins can be traced right back to 1858 which makes them the first rugby club in the world without restricted membership.
'Club', as they are widely known throughout the world of rugby, were founder members of the Rugby Football Union and also share with Richmond the honour of having played the first club fixture in the world.
The most recent and highly significant development off the field of play in their history was the decision to play their first-team rugby away from their long standing home at Rectory Field. At the beginning of this season, the move was made to Well Hall at Eltham, the venue at which Cov were beaten earlier in the season.
Blackheath are again enjoying a fine playing season which sees them in third place in National League One following their win over Fylde last Saturday. Five of their 12 wins have come away from home, at Fylde, Hull Ionians, Ampthill, Darlington Mowden Park and Esher.
Off the immediate field of play, there have been recent changes with the departure of head coach Matt Stewart and Mike Friday. The senior coaches are now Chris Kibble, Simon Whatling and Andy Wolstenholme.
Last season, Blackheath finished a strong third and, always difficult opponents, a majority of that squad remains, although a significant absentee is Dave Allen, the veteran flanker who retired in April.
One of the newcomers, ex-Worcester Warriors hooker Dan George is currently top try scorer on nine, while heading the overall points list is winger and full-back, Leo Fielding on 128. A name certainly known to longer standing Cov supporters is lock forward Gregor Gillanders, who made 25 appearances in a Coventry jersey during the 2007-08 whilst on loan from Leicester Tigers, before moving on to Bedford Blues.
Fixtures between our two clubs go way back before leagues or merits tables, but looking strictly at league encounters, since their inception in season 1987-88 there have been 26 meetings so far.
Up until 1998-99, Cov had won 12 out of the 13 matches played. There was then a gap through to season 2010-11 before we actually met again, and since then, including the fixture back in September, Cov have won six times and Blackheath five with two draws.
Most recently, things have gone the Blackheath way. Last season they recorded their first-ever league win  on Coventry soil and then to top that, back in September, they gained their biggest league win over Cov, 42-5, in a match Coventry players and supporters have not forgotten in a hurry.
The scene is set, therefore, for another exciting encounter, sixth against third, and with a great deal to play for.