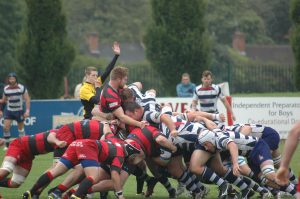 DIRECTOR of rugby, Rowland Winter attributed Coventry's narrow 19-14 defeat at Birmingham Moseley to a slow start and a lack of reward for a dominant scrum in a feisty derby played out in wet conditions at Billesley Common.
"I'm disappointed with the result, but probably more disappointed with our performance in the first 20 to 25 minutes," said Winter. "From that point onwards we showed our dominance in the scrum and at the line-out, and I'm not entirely convinced that we had the reward we deserved from either set piece. I'm pleased that our set piece came up against one of the better sides in the league and did so well, but we probably should have got more out if it today.
"In terms of around the park, I think the last 10 minutes showed that we can play and we probably waited too long to pull the trigger. Winning the second half was what I asked them to do at half-time, but we had left ourselves too much to do. The slow and sloppy start cost us.
"I'm not too worried that we turned down early kicks at goal, that's the way we play, it's more about some of the decisions we made in the first 20 minutes which put ourselves under too much pressure in defence and gave them a couple of opportunities to score the tries they did.
"We kind of gifted them the first two tries and left ourselves chasing the game which isn't the thing to do in this weather.
"Losing a game at this stage of the season isn't a problem. We've got to respond, and I expect a backlash next week against Macclesfield at home. We'll learn some lessons, and from that first 20 minutes on, we were by far the better side.
"I'll have to have another look at the red card incident, but I think Jubby's eyes were on the ball and there was no intent to take out the other player, no malice, and he's probably just clumsy."
Read John Butler's review of the game in the Match Reports section
Nick Meredith's photo album is available on the club Facebook page https://www.facebook.com/CoventryRFC/?fref=ts