by John Butler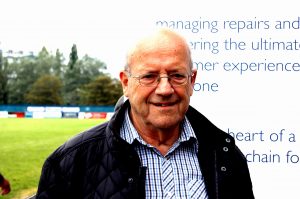 COVENTRY Rugby make the relatively short journey down the MI on Saturday, travelling to the rural surroundings of the Woolllams Playing Fields for just the fourth time to play Old Albanian.
There, some little distance out of St Albans, Cov will be seeking another season's double over a home squad that has certainly had an up and down time this season.
In fairness to them, overall it has been more more up than down and they have steered away from being drawn into any relegation issues despite defeats outnumbering wins in their first season back in National League One.
They have held their own pretty well and Cov supporters will remember, for example, the closeness of the 85-point Butts Park thriller earlier in the season and how close Cov came to losing that one!.
One factor Cov's travelling support will certainly be hoping for on this occasion is some half-decent Hertfordshire weather! True to say that on each of the previous three visits, the elements have been pretty foul. Those who were there will not have forgotten the scene a few seasons back when the referee had little choice but to take both sides back to the safety of the dressing rooms whilst a severe thunderstorm passed. With Nuneaton Town football playing just a few miles away, word came through via local radio links that ''it will hit you in a few minutes.'' And of course, it did.
The existing Old Albanian site was opened back in 2002, these days known as the Woollams, in honour and memory of a benefactor in the 19th century to St Alban's School, to where the club's links can be traced back to.
Head coach James Shanahan will, for the second time, be leaving OA come the end of the season. Shanners, as he is known, is departing to take up the reins at Blackheath, having also been in a playing/coaching role at Plymouth Albion.
In terms of links to Cov, there are two, the first in the form of fly-half/full-back Ben Palmer, who has previously trained with Cov whilst also playing for Broadstreet. Ben, well placed among the division's top points scorers, heads his club's tally with well in excess of 150 points, whilst another back, full-back Nick Foster heads the try list.
The second Coventry link is even more recent. After release from the BPA, James Pritchard headed to the Woolllams and has featured for them on the wing recently.
One piece of news which hopefully will be awaiting Cov on their arrival will be an update on injured OA centre Chris Ma who suffered a horrendous double break of the leg in the earlier meeting. All will be hoping for an encouraging update on his recovery.
OA's record reads won 12, lost 15, after a fine away win at Fylde last weekend but they will not want reminding that their last home game two weeks ago saw a 65-19 defeat by Esher.
Overall, at home this season Old Albanian have won six times, against Blackheath, Cambridge, Hull Ionians, Fylde, Macclesfield and Rosslyn Park.
From the seven matches since we first met in 2012/13, Cov lead 4 -3. Prior to the December meeting, which ended up with that extraordinary 43-42 scoreline, two seasons ago Cov also claimed the double, the first time success had been achieved at the Woollams.
Coventry can make the journey full of confidence. Another excellent home performance against Rosslyn Park brought a fifth win on the trot, and with the squad and coaches very keen to put together a continuing fine run to the end of the season, seeking victory at the Woollams is very much part of that.