by John Butler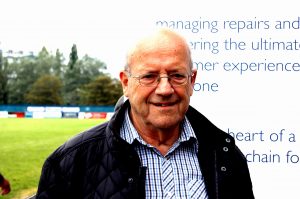 COVENTRY Rugby will be aiming to complete a hat-trick of home wins over visitors Darlington Mowden Park in the final game of the season at Butts Park Arena on Saturday.
Last season Cov came out on top 27-10, and two seasons ago they were 29-17 winners of an equally tough encounter. Equally, Cov have still to win the away fixture but went close with a 20-20 draw in December.
Park's history is relatively recent, in that in 1950 Darlington Grammar School Old Boys received a letter from the Rugby Football Union confirming their membership. There is some evidence of rugby being played previously for five years or so.
Some years later the club went open, and by this time they had become Mowden Park RFC. As that name implies, it gave no direct link to the town, so subsequently the name Darlington was added.
The club's headquarters  are based at the spacious Northern Echo Arena, which was originally the home of the local football team and has a capacity of around 25,000.
The club itself is large and all embracing with a senior section containing several sides, a ladies section well known in their league circles, and a big mini and junior section which also caters for girls rugby.
Darlington Mowden Park first gained entry into National League One at the end of the 2013/14 season and they have held their place well since then.
Currently eighth, three places below Cov and seven points behind seventh-placed Blackheath, their record shows 13 wins and 14 losses with that one drawn match against ourselves.
Five of the wins have come on their travels. The last of those was at Birmingham Moseley in February, others being gained at Old Albanian, Cambridge, Blaydon and Ampthill.
Last league action for DMP was two weeks ago when they won a game of 88 points at home against Fylde (66-22). Prior to that, they had lost their previous three matches.
There are a number of links, playing-wise, between our two clubs. Cov's former utility back Caolan Ryan began the season in the north east before transferring to Rotherham Titans, whilst former prop forward Ignas Darkintis is a regular first teamer. Two locks, Rob Conquest and Tom Jubb, meanwhile moved south during the last close season, although Rob has since returned to Park.
Park's points have been pretty evenly spread. Ryan, with 86, remains top scorer, Josh Bragman has 84 and Adam Radwan 80, comprising 16 tries as leader in that department.
Director of rugby, as on their last visit, is Danny Brown.