COVENTRY suffered their first defeat of the pre-season in Jersey today, but director of rugby Rowland Winter was happy with the overall performance in a 26-17 loss to their Championship hosts.
Cov trailed 19-3 just before half-time at St Peter, but a converted injury-time try put the visitors right back in the game and the second period was shared with Cov finishing the stronger and, ultimately,  left to reflect on some missed opportunities in a fully committed display.
"Yes, we've got things to tidy up, but it's a good platform for us to kick on and I'm definitely happy with a nine-point loss away from home against a strong side," said Winter.
"We're disappointed that our lack of accuracy in their 22 saw us bomb a number of chances early on and in the second half, we need to complete those but it's rustiness in a game situation, and the unforced errors in terms of knock-ons as the game went on is a sign of where we are pre-season and I'm happy that that will tidy itself up.
To go from 47-5 12 months ago to 26-17 with those errors and lack of accuracy I think shows we're in a very good position to kick on and fine tune what we're doing ahead of Hull Ionians in three weeks' time.
The penalty count evened itself up, but we gave Jersey a foothold in the first half by conceding two or three on the trot which led to opportunities for them and that's something we need to cut out.
"But overall as the game went on I felt Jersey tired, allowing us to find space and go at them, so that's a positive."
Pete White was hauled down within a whisker of opening the scoring in the left corner after a scything break by Heath Stevens on seven minutes, but Cov then conceded three penalties in quick succession which ended in an unconverted try for Jersey flanker Seb Nagle-Taylor.
Cov again went close in the left corner and Will Maisey missed a long-range penalty before Jersey stretched their lead to 12-0 with a Ross Adair try in the left corner, well converted by Brendan Cope.
Maisey landed a second penalty attempt from 40 metres before a yellow card for Luke Narraway led to a third home try for Kieran Hardy, Cope again converting for 19-3.
But Cov hit back on the stroke of half-time, James Stokes carving through from near halfway and sending Scott Tolmie over between the posts, Maisey converting.
Cov had the first chance of the second half, but Jersey held out against a series of pick and go's before adding to their lead on 46 minute with a penalty try for a collapsed maul.
It was to be the home side's final score, however, as Cov defended strongly when under threat and built momentum which produced a try for Harry Morley, from a forward drive, and Tony Fenner conversion with other opportunities falling frustratingly short.
Jersey Reds: tries Nagle-Taylor (12), Adair (25), Hardy (36), penalty try (46); conversions Cope 2 (25, 36). Coventry: tries Tolmie 940), Morley (65); converions: Maisey 2; penalty Maisey (30).
Jersey Reds: Van Breda; Hodson (Worrall h-t), Abrahams (Best 53), Ma'afu (Eastwell 62), Adair; Cope, Hardy (Dudley 56); Woolmore (Brodley 62), Macfarlane (Saunders 50), Clarey (Armstrong 28), Voss (Bartle 53), Quarrie (Sexton 17), Rogerson, Nagle-Taylor, Argyle (Joyce 59).
Coventry: Stokes (Maisey 67); Asiedu (Knox 53, Tuitupou 75)), Stevens (Grove h-t), Tuitupou (Stevens 64), Knox (Matoto h-t); Maisey (Fenner 52), White (Brazier 30, White 67); Litchfield (Brown 28), Tolmie (Nilsen h-t), Boulton (Litchfield 53, Morley 64), Dacres, Poole (Gray h-t), Daynes (Makaafi 38), Preece (Povoas 52), Narraway (Stokes 78).
Referee: A Woodthorpe (RFU).
Attendance:1,075.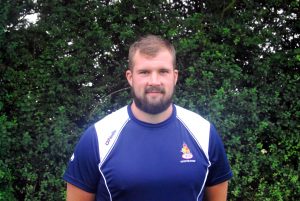 Harry Morley