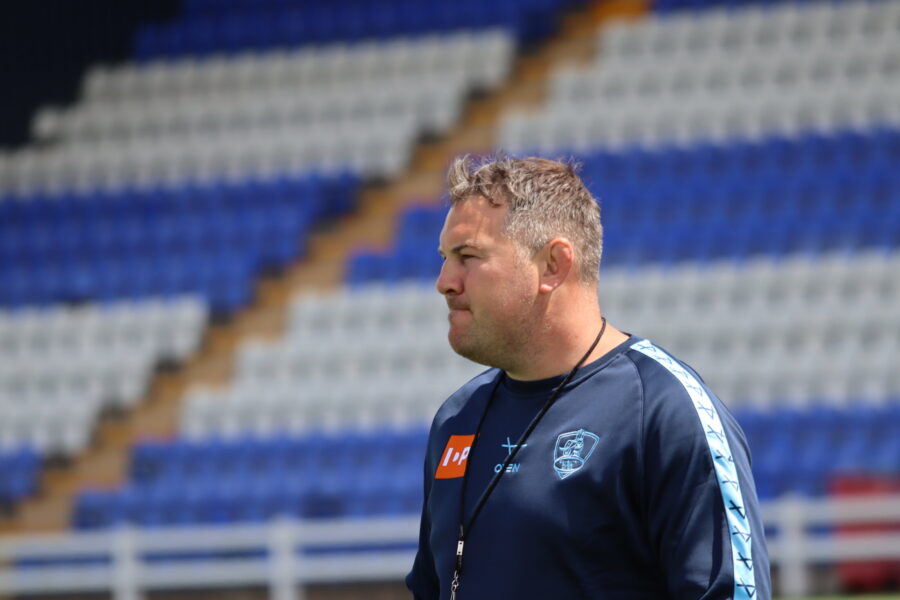 Coventry Rugby head coach Alex Rae admits that preparations for Saturday's trip to Ampthill have been done with one eye on what the weather gods may bring.
With a series of low pressure troughs forecast to blow across the south of England, a trip to Dillingham Park – where the pitch sits on a hilltop location with no surrounding stands – could present quite a challenge.
Typically Rae is encouraging his team to meet this head on – and even relishing the prospect of seeing his youthful pack perform in conditions where the contest could be won and lost up front.
"We're prepared for everything – given how the weather is at the moment we have to be able to deal with whatever is chucked at us," he says.
"If it's wet we'll play one way to hopefully win the game and if it ends up being sunny and dry we'll adapt and bring a different version of ourselves.
"In a way I hope it is really wet because we will have a big pack including a couple of strong scrummagers and although they are young this could be a 'coming of age' moment for them.
"I want our players to have the mentality that it doesn't matter who we play or where we play them, we rock up and play our style of rugby.
"In times past it seems Coventry at times struggled playing away from home and on different playing surfaces but we put that to bed some time ago and now have a different set of people here with a different mindset."
Rae expects to select from a very similar playing group to last week when a strong second half display produced five unanswered tries and a comfortable 45-5 home win over Caldy.
"We have a few with bumps and bruises but nothing too serious and certainly nothing long-term," he says.
"James Tyas and Tiki Nayalo missed the Caldy game but both are progressing well and are not far off being ready to play.
"Paddy Ryan had some time away with the USA between Sunday and Wednesday this week but he's back training now and obviously is keen to face his former club.
"Arthur Coldwell has trained with us twice this week and because he was also here on loan from Bath last year he is able to fit pretty much straight in should Toby Trinder be unavailable.
"I have mixed feelings about the breaks between blocks of games that we're having at the moment as it's good sometimes to get on a bit of a roll, play every week and get a bit of momentum.
"But the week off after the Ampthill game should enable us to clear up any remaining niggles and have a clean bill of health going into the next three-week block when we play Doncaster, Ealing and Hartpury."