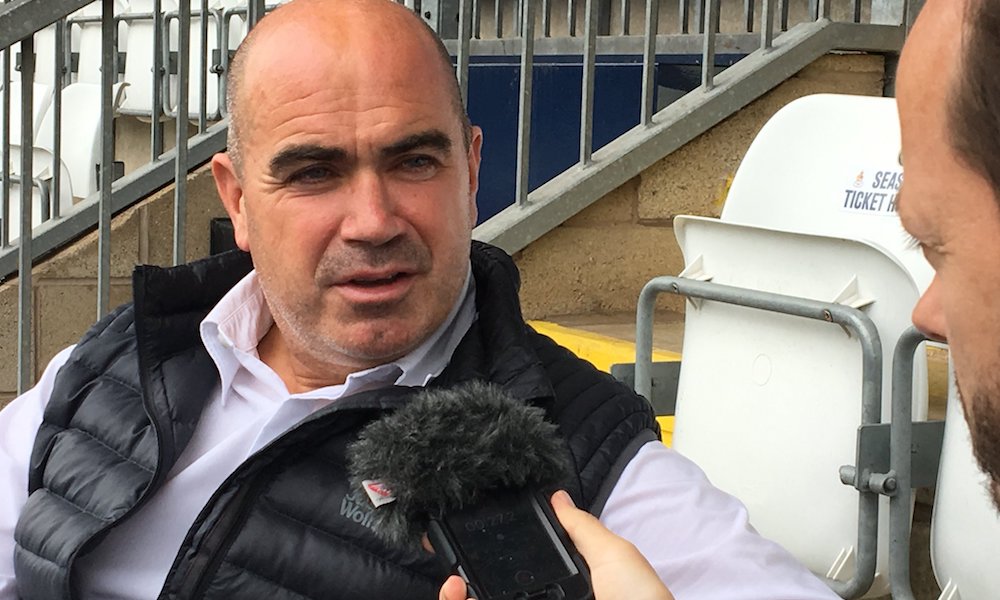 Firstly I would like to wish you all a very Happy New Year.
Six weeks ago the country was a very different place. We had just come out of a national lockdown, we were starting to see crowds coming back into sports stadiums, and the Championship clubs and RFU were coming closer to agreeing the start of the season, something which was announced on December 21st.
And then…. well, we all know what has happened since!
I certainly have experienced nothing like this in all my years in professional sport. We have gone from experiencing the highs of coming within sight of the top two or three teams in the Championship to battling for the club's future alongside the future of the vast majority of rugby clubs across England
Just over a year ago we beat Nottingham in front of over 3,000 supporters at Butts Park, under the lights and in front of the Sky Sports cameras. During the half-time of that match I spoke to Rupert Cox about how that was exactly what we wanted Coventry Rugby to be – a showcase for Championship rugby and a hub for the sport within the city and the wider community, a club that people wanted to come and be a part of, whether they were aspiring talented players, in the stands on match day, or in our community outreach work that was making a positive difference to everyday people across Coventry and Warwickshire.
Twelve months on, and I actually believe that this is still achievable.
On the field the team has been back in full training for just over three months and we have been operating at Elite Rugby Stage 2 for over six weeks. As part of this process our players and staff are Covid tested every week, a significant commitment on the club's part.
To put this in perspective this is costing the club over £5,000 a week, and while this puts us under significant financial pressure at a time when our cashflow has dried up completely under the terms of the current lockdown, as an organisation we believe you cannot put a price on ensuring that all our people are safe and in a positive health and mental wellbeing state.
Although we have had to make some drastic cutbacks in our rugby and commercial departments for obvious reasons – the pandemic compounded the pre-existing central funding cuts which had been unilaterally announced by the RFU without any prior notice – there is the core of a talented squad with quite a bit of Premiership experience as well as youthful enthusiasm and an equally talented and resourceful off-field team.
So, what does the future hold?
We have submitted our application to DCMS and Sport England for funding from the government's Sport Winter Support Package (SWSP).
If this application gets approved then it will make a big difference to us, but be under no illusions that it is not a magic bullet and we will remain under a massive amount of financial pressure. The SWSP is aimed at providing us with replacing some of the income that would otherwise have been coming into the club through match related activities, such as ticket sales, hospitality and sponsorship. It is not 'new' money, merely going towards replacing what we would have expected to generate in normal circumstances.
The SWSP team, which is being led by Sport England with auditors Deloitte, has been very detailed and professional, and the application has asked us to prove that we will be financially viable and resilient in the year ahead, showing clear evidence that we have been working within multi-year plans and that we have a detailed model of our future operations.
The effect of the prolonged lockdown will mean further restructuring of the operating model in the months ahead. Nevertheless, our primary objectives of being a professional Championship top rugby team and a city centre hub for community sport, health and mental wellbeing and education have not changed.
In short, our reserves have been in a critical shape for some time and whilst the furlough scheme has very useful and a huge help in our survival, this support only covers just over 50% of our operating costs and it is apparent we will need to make further cutbacks in our bigger cost centres so that the club can survive the immediate future.
It is important to stress that while we have optimism about our future we are also very realistic that we are by no means out of the woods just yet, and it would be remiss of us to not have the worst-case scenarios at the back of our minds.
Nevertheless, we now have a start date and a conference format for the Championship where we will be having 10 games to try and earn our place in the final against the winner of the other conference. It is a bit disappointing that we won't be playing Saracens in a competitive match, but on the positive side it looks like our conference will be more competitive, with a better chance of getting into the final.
There are a few pre-season games in the diary as well which we will announce in the next couple of weeks, and the strong possibility of playing later into the summer in a round-robin against some of our friends from elsewhere in the Midlands, again something we will announce in due course.
We are close to finalising a live streaming option so you will be able to watch the team play, regardless of whether we can welcome supporters to Butts Park or not, and again we will announce the details soon.
In terms of the Championship, Coventry Rugby has been at the forefront of trying to implement positive change for some time. Across the Championship we see clubs with innovative community outreach programmes or extensive minis and junior sections which then feed into the adult teams, and when you combine that with the exciting rugby which is played then you have a competition which is unique.
We strongly believe that if all stakeholders can collaborate and buy into a collective vision we can create a professional community-centric competition that is the envy of the world. But we have to move quickly and be proactive – although there is a structure for this season there is nothing in place for 2021/22, and if we wait until the spring (or even later) then it will be too late.
On the club front, our commitment to creating a rugby development pathway for boys and girls in our community can be evidence with the recent announcement of our partnership with Moulton College, which will enhance and fast track our ability to develop the best young players from across the Midlands into the Academy and then the senior squad.
Since the summer we have been in survival mode, whilst at the same time we have had to think outside the box in order to survive; great examples of this are the introduction of multi-sport camps, Sunday Lunches and other events, re-opening the pitch for hire, and the launch of a new online shop which has generated much-needed income. We had other plans for a Comedy Night, to show the Autumn Nations Cup, and to have a series of events alongside the Coventry Rugby Supporters Club, all of which have unfortunately been lost to the pandemic.
We have also put together our operational plans to be able to welcome supporters back to Butts Park for matches as soon as we are able to, and we continue to liaise closely with the relevant authorities to complete this process. Again, this has been a big job and there are a large number of hurdles to overcome, but we are hopeful that when the pandemic eventually subsides we will be opening our doors to you once again.
On the community front we were proud to extend Project:500 into Feed:500 over the festive period, providing food packages to tens of families from Spon End and then a multi-sport activity camp for the children of those families at Butts Park between Christmas and New Year. We are continuing to work on similar initiatives, such as information packs for parents to be able to have their own Rugby and Reading sessions with their children at home.
We are also beginning to put the framework together that will build on all of the work we are doing towards the club's 150th anniversary celebrations in 2024. This will not be a three-year plan for the sake of a three-year plan, but will be focused on key strategic projects that will deliver sustainable legacy for the club and city.
Inevitably the development of Butts Park will play a significant role in this, and I must go on record and thank Martin Reeves and his team from Coventry City Council for the continued support with the site development plans. A lot of work has been done alongside our friends at IDP, and some big strides are being made as we look to utilise our biggest asset to ensure our longer term sustainability.
From a personal perspective I would like to thank our Board of Directors, in particular our Executive Chairman Jon Sharp, whose levels of determination and resilience continue to amaze me. Our hard-working team off the field have been tremendous, too, adapting to new ways of working, supporting each other through uncertain times, and still coming up with the ideas to generate new sources of much-needed revenue.
It is also heartening to know that we are not just doing it for us, but working for you as well. The backing we have had from our supporters and commercial partners has been immense and we would not have come through the last nine months without it, and on behalf of everyone at the club a massive thank you for the dedication you have shown.