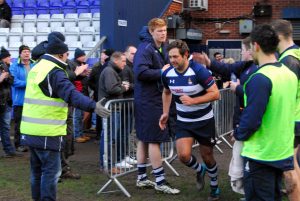 FANS favourite Cliffie Hodgson admits that even he had begun to doubt he might ever get there, but he finally took his place in Coventry's 100 club last Saturday when he led out the side to face Blackheath.
"It's a massive honour," said the 27-year-old South African, who was an ever-present in his first two seasons at Butts Park after joining from Rotherham Titans on 2012 but has struggled with injuries since then.
"I thought I wasn't going to get there at one point with all the injuries, and I'm just massively privileged to have been able to wear the Cov shirt 100 times.
"Last season was a complete write-off with my shoulder, I had been injured towards the end of the year before, and it's been a battle.
"I've had to work hard to get back, but finally I'm there."
Last season did include one highlight for Hodgson when he became the first Coventry player to score 1,000 points in league rugby, but he was restricted to just 11 appearances by a persistent shoulder problem which eventually led to surgery in the summer.
It was, he now concedes, an inevitable outcome and a route he should in hindsight have taken earlier but was overruled by his desire to play and be involved – something he has experienced again this season.
"I would like to play in every single game and play every single minute, that's my nature, and not being able to do that has been really challenging," said Hodgson who is at home in the centre, at full-back or at fly-half.
"I've had some quite serious injuries in the past, but never one like this that kept me out and then when I got back, put me out again.
"To go from doing so well to not being able to do anything was especially difficult.
"I came back against Esher in October and looking back at it I would probably say it was two weeks too early, but I was so keen to get back and wanted to play.
"Unfortunately I took a knock on the AC joint, completely different to the issue I had the surgery on, but it was probably because the shoulder was weak anyway and happened for a reason.
"That put me back another four weeks or so, but I had to remain calm and patient and fair play to the coaching staff and to the medical staff who have worked alongside me throughout and kept encouraging me.
"There were a couple of nice touches from Rowland Winter, reassuring me that everything would be fine and to just keep working hard because they believed in me and to retain my ambition– just little things they said that kept me going.
"It looks quite bad when you've been out so long, have a quick 20 minutes and are then out again, but again Rowland and Nick Walshe kept telling me everything was fine and just to get myself healthy. They've been brilliant, and here I am, back playing and I don't have to worry about my shoulder."
Blackheath completed a run of four games back in the side for Hodgson, who set a club league record of 372 points in the 20013-14 season but has yet to return to kicking duties.
"Every game I've been growing in confidence, getting better and better," he said. "I think you can see it from my body language on the pitch. Everything is going in the right direction, and I just need to keep that going and maintain that confidence.
"I'm not going to play every single game, but when I do play I need to make sure that I make the most of the opportunity.
"Not kicking certainly has taken pressure off me a bit.
"I couldn't do the kicking with my shoulder, it hurt doing too much, and I haven't trained as much as the other boys.
"I'm slowly but surely getting back into the swing, but you've got to give credit to Tony Fenner and Will Maisey, they're doing a fantastic job this season and as long as the ball goes through the posts and we keep winning games then I'll be happy.
"Obviously my role in the team is different now, but it's a different challenge for me and that's what I enjoy.
"I do miss it, I miss the confidence that comes from kicking well, but it's not to say that I'll never kick again and I need to be ready for when the opportunity presents itself.
"I've got to work hard on my fitness, and I want to be sharp and ready for next season. I would just like to have a proper pre-season this time, do every game and go into the season fully confident that I'm fit.
"I'm quite looking forward to that.
"I'm more than happy here – the club is definitely going in the right direction. For our first season together as a new team we've done exceptionally well.
"We've won some tight games and we've also had some valuable lessons away from home – its little steps, but steps in the right direction.
"It's been a massive journey for me. I fell in love with the club and I'm Coventry through and through – I've got my house here, my fiancee is from Coventry, we're getting married in July, so I'm going to be here for a long time."