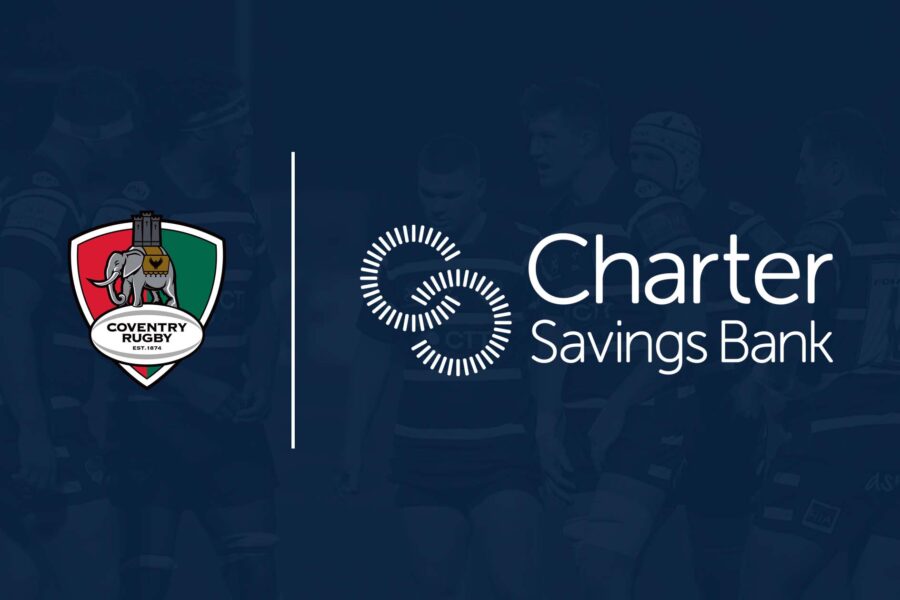 We're delighted to announce the renewal of our partnership with Charter Savings Bank, a lead partner in our crucial community initiatives.
Charter Savings Bank has been a valuable partner supporting our Rugby & Reading, Rugby in Schools, Matchday Experiences and Project:500 initiatives since 2019 and has agreed to extend their sponsorship for a further two years.
Being part of the OSB Group, they serve 'overlooked and underserved' UK communities, with simple, competitive savings products, and further help the communities by supporting key initiatives across the UK, such as those with Coventry Rugby.
OSB, through Charter Savings Bank, strives to create positive change for local and UK-wide communities through charitable contributions as well as employee giving and volunteering and invests in thoughtful, innovative partnerships and programmes that align with its strategic objectives and build the capacity of individuals and communities to succeed.
Paul Whitlock, Managing Director – Savings, said: "Working with Coventry Rugby, and being able to support them in helping local communities in Coventry and across the West Midlands, has been an important part of what we do as a company, and what we want to continue to do over the next two years. I'm delighted to have extended our relationship and delighted to be working with Coventry Rugby, an elite sporting organisation that doesn't forget the people in their local area. They bring professionalism together with compassion, and I'm delighted to be able to continue our support."
Through our various community programmes, Coventry Rugby seeks to improve the lives of local residents both on and off the field. Programmes such as Rugby & Reading and Project:500 are brilliant examples of how sport can be used to influence positive change and Charter Savings Banks' support of these projects significantly increases our ability to do so.
Richard Meacham, Community Manager at Coventry Rugby said: "It's a pleasure to work with Charter Savings Bank across a number of our community projects. They truly are the good guys of the banking industry with a real focus on people. Whilst aiming to provide competitive savings accounts, they understand the importance of helping those less able in local communities and have identified Coventry Rugby as a force with which to do so."
If you would like to know more about our community programmes or would like to help support the fantastic work that Coventry Rugby does, contact community@coventryrugby.co.uk