by John Butler
COVENTRY'S march continues!
In front of Cambridge's biggest crowd of the season, boosted considerably by the Coventry presence, Cov moved to their ninth win of the season to add to the eight at the end of last and so making it 17 in all, beating the club league record number of successive wins set three years ago.
Realistically, it was another result that never really looked like going any other way.
Once the unbeaten Butts Park squad move in front on 11 minutes, one result only ever looked likely.
Cambridge, with some encouraging recent form, battled but made far too many mistakes in their build up, particularly with the pressure the Coventry defence put them under, and by half-time Cov were out of sight with a 28-point cushion.
There were blips. George Oram, with an injured hamstring, departed after 10 minutes and scrum-half David Brazier also took no further part after 50 minutes, a dislocated wrist ending his action.
Added to that, centre Sam Tuitupou received a red card 17 minutes into the second half. Leading up to the incident, Latu Makaafi had been penalised for a high tackle, Tuitupou then became involved, throwing a punch, and Cambridge replacement flanker, the experienced Darren Fox also departed for his part in the action with a yellow card.
Overall though, Cov could feel pleased with their efforts despite all Cambridge could muster in the second half.
Much of the approach play and running off the angles was again a great credit to the work put in by head coach Nick Walshe and as the early lead was built, displayed once again how potent, well-organised and structured this Coventry squad are.
Try number one did indeed come after Cov had seen a good deal of early pressure thwarted, before a short line out won by replacement Luke Narraway, already on for the injured Oram, fed Brazier and hooker Scott Tolmie crashed over for his seventh try of the season. Will Maisey, again in sublime kicking form, converted from a wide angle.
Within five minutes, it became 14-0, Cambridge, under immense pressure on their own line, conceding a penalty try for pulling down a maul as the visitors went over the line.
Cov, with the stiff crossfield breeze behind them, were in complete charge with Blood & Sand rarely out of their own half.
The third try came on 24 minutes. After Makaafi was held up short, Cov moved possession wide and Anthony Matoto crossed in the far right corner, Maisey's superb conversion taking Cov 21-0 clear.
Within three minutes, Cov had secured the bonus point. A flowing move involving Narraway and Makaafi ended with an exchange of passes between James Stokes and Tom Emery before the full-back flew over against his former club, Masiey once more adding the extras with a fine kick.
It was to prove the final score of the half which ended at 28-0, although in the build-up to the break Cov were battering away again and Cambridge finally reaching the visiting 22 on 30 minutes after Brazier was forced to tidy up messy possession.
If the second half, from a Coventry perspective, didn't quite reach the same heights, then Cambridge to their credit should be congratulated for raising their tempo.
The home side had brought on player-coach Fox at the interval for his first appearance of the season and his tough, abrasive style seemed to help lift his side.
Brazier departed with his injured wrist, the adaptable Emery moving to scrum-half, with Cambridge for a time seeing more of the ball and play.
After home centre Matt Hema had been held, Maisey cleared the danger and Cov swooped for try number five. It came in the 54th minute, Narraway breaking before linking with Emery and possession then moved left where replacement Max Trimble finished off for his first try of the season. The strong wind this time defeated Maisey's conversion attempt, but after applying early second-half pressure, Cambridge must have been deflated by another reverse.
Shortly afterwards came the red and yellow card, with Cambridge subsequently plugging away without success.
Another long Maisey kick cleared any danger before Coventry moved 40 points clear. Although Cambridge by now had Fox back on the field, Heath Stevens made a strong midfield break and when the move was halted, replacement hooker Phil Nilsen powered his way over for the sixth try – Maisey converting for 100 personal points for the season.
Cambridge, to their credit, still tried to play attacking rugby which for the most part had fallen down on the stern Cov defence, but on 78 minutes the Butts Park men were to concede their first points in well over 200 minutes of rugby.
With changes now in midfield, the home side broke from their own half and James Ayrton ran in strongly, centre Albert Portsmouth – on his 150th club appearance – drop kicking the conversion.
Cov were back on the offensive in the dying minutes, but safe in the knowledge five more league points were already tucked away.
With results elsewhere again helping, news came through that the Coventry lead at the top of National League One had increased to seven points. Heady days!
Cambridge: try J Ayrton (78); conversion Portsmouth (79). Coventry: tries Tolmie (10), penalty try (17), Matoto (24), Stokes (27), Trimble (54), Nilsen (71); conversions Maisey 4 (10, 26, 28, 72).
Cambridge: M Ayrton; Hutchinson, Portsmouth, Hema, Petrides (J Ayrton 60); Penfold (Green 62), Keenan; Ibrahim (Peck 60), Griffiths, Moynihan, Peters (Fox h-t), Conquest, Onojaife, Britton, Nutley (Ruddock 55).
Coventry: Stokes; Matoto (Dingwall 61), Stevens, Tuitupou, Emery; Maisey, Brazier (Trimble 46); Titchard-jones (Boulton 32), Tolmie (Nilsen 55), Litchfield, Dacres, Oram (Narraway 10), Makaafi (Matoto 72), Preece, Daynes.
Referee: Tom Davis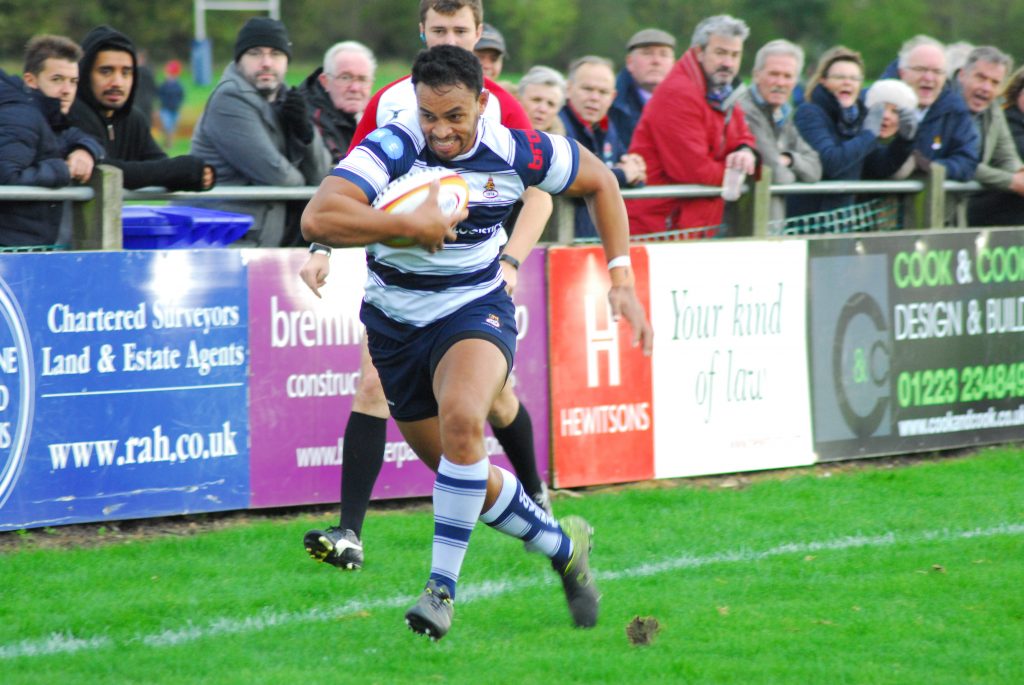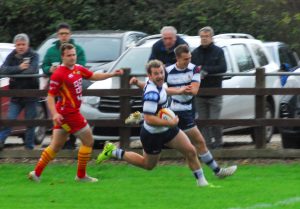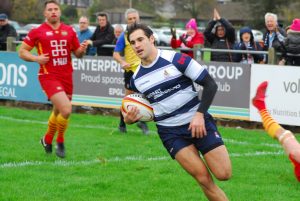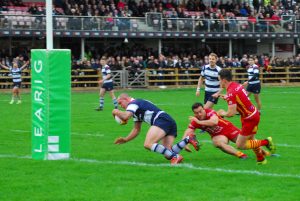 Try time – Anthony Matoto, James Stokes, Max Trimble & Phil Nilsen. Pictures by Nick Meredith