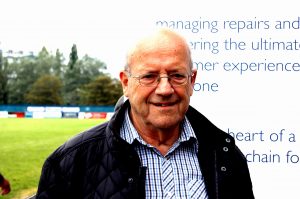 By John Butler
A SECOND away match on the bounce for Coventry, this time the long journey south west to take on the Albion at Plymouth.
Quite a number of Cov fans have confirmed they are making a weekend of it, so once more the Butts Park squad should have a good number to cheer them on at another tough venue to visit.
Cov and Albion have any number of points in common. One of the current notable areas is their respective levels of support, being numbers one and two in National League One.
Another is the fact both have past 140 years in existence, Albion having been formed some two years after Cov in 1876.
For many years, their headquarters were at Beacon Park. Coventry played their 'John Player' Cup match there in 1984/85. Since then, Albion ahve moved to their current venue at Brickfields, situated south of the city in Devonport. With particularly their Navy links in mind, a number of representative games have already been played there.
Many Coventry fans will be aware that Plymouth have also experienced their financial difficulties, which saw a points deduction last season and new owners coming in. It also saw the departure of long-serving Graham Dawe, both as a former player and coach.
Rebuilding has been taking place and prior to Cov's visit, Plymouth Albion are third in National League One, but level on points with second-placed Ampthill.
Yet another close parallel with Coventry is the respective home records of our two clubs. Both have only lost once at home so far this season, both against the league leaders, Hartpury. Even there, the final scorelines are fascinatingly similar, Albion losing by three points, Cov by four!
That Plymouth home record, however, does give a pretty clear indication of the extent of Cov's task this weekend. Ten home wins and just that one defeat in mid-December.
Albion have a playing record to date of 15 wins and six defeats, the latest result at Darlington Mowden Park last Saturday being described as a ''resilient win", their fourth in a row.
Without doubt, Coventry will face a tough, well-organised pack of forwards, plus backs who are not afraid to move the ball.  To help illustrate that point, winger Robin Wedlake moved to the top of his club's try tally last week, his touchdown at Darlington taking him to 11, closely followed by back row forward Dan Williams with ten and full-back Matt Shepherd on six.
Backs coach and fly-half Kieran Hallett, who was on the bench last time out, tops the club's overall points tally with 129, Shepherd being on 78.
Last time the two sides met at Butts Park in October, they produced a 67-point thriller – 19 from the reliable boot of Will Maisey being one of the factors in helping Cov clinch it.
Digging back into the archives, whilst regular meetings between our two clubs are relatively recent, there is evidence of a one-off Easter fixture back in 1950/51. Having played Exeter in a drawn match on the Monday, the Cov team of the day moved further south west to claim a narrow 5-3 win over Plymouth on the Tuesday – a converted try in the days when the touchdown was still three points.
At National League level, Cov and Albion first met in season 1989/90. Many of the links between the clubs, as has been indicated earlier in this piece, are very close indeed and so is the difference in league wins recorded to date. Following the meeting earlier, Cov edged in front 11-10, with one game drawn.
Cov's plans for the week, including the build-up, will see them travelling down to the south west on Friday. Without doubt, they will face a difficult 80 or so minutes at Brickfields, where they will clearly hope to put away a higher percentage of chances created than was the case at Fylde.
From looking at records and having just a little local Devon family feedback available, the Plymouth area has also certainly not escaped the recent rainfall. It would seem, therefore, that the Brickfields pitch could quite probably be heavy.
It will also be an interesting day for centre Heath Stevens, who made his return to Cov colours at Fylde last Saturday and will be revistiing the club he joined when his first spell at Butts Park ended in 2013.
Whatever, as always between the clubs, it promises to be another exciting encounter with Coventry for their part looking to improve their away record as they seek to claim that spot close to the top of the division come the end of the season.