THINGS could scarcely have gone better for Brett Daynes on his 150th league appearance for Coventry Rugby with the honour of leading out the team on the day they secured the National One title and promotion, scoring a try in the 55-12 win and then being named man-of-the-match by hosts Caldy.
And it snowed as well.
It was, he said, like a fairy tale – and one with a very happy, and symmetrical, ending for the back row forward, who played in Coventry's first National League One game in 2010, at Tynedale, and put his heart into helping the Blue & Whites get back into the Championship.
"It was definitely a very emotional day, and obviously for me from a personal perspective," said Daynes, whose try on the day was his 30th for Cov.
"To be able to lead the team out for my 150th cap was a proud moment and something that I'd been working towards this season.
"There was perhaps some self-doubt in the back of my mind at the start of the season that I would get to this milestone, given the calibre of players that were coming in, so it's an achievement that I'm very pleased with.
"From a different side of things, since I came to the club when they went into National One in 2010, promotion is something we've been working towards, every season it's been spoken about, and now finally it's been achieved which is fantastic in itself.
"It couldn't have been any more like a fairy tale on Saturday, it was absolutely brilliant.
"I don't know how much of the man-of-the-match came down to empathy towards my 150th cap, but that was a great honour as well."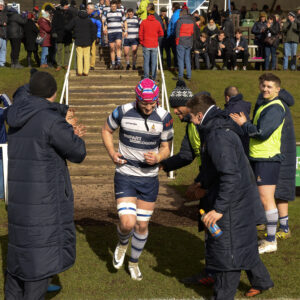 Picture: rjc-photography
Daynes was instantly recognisable at the start of the game, taking the field in a pink scrum cap presented to him by supporter Simon Jackson.
"It was actually quite a privilege for me to wear it – for Jacko to go out of his way, as a supporter, and spend money to give something to me like that, to wear on my 150th cap, is something I'll carry for a long time and very sentimental," he said.
It did, however, make sure that Daynes stood out in the crowd. "That's why I took it off after ten minutes – I gave a long pass to Rob Knox, and I thought if that had been intercepted everybody would have known it was me because of the cap!
"It was a great game, and to win 55-12 against a mid-table team is a tremendous result.
"It would have been easy to let the occasion get to us, but Phil Boulton is great at getting boys' heads in the right frame of mind just before the game, focusing on what's important and what we can achieve if we just do the right jobs and what we've been doing all season, and that's what we did.
"We came out of the blocks wanting to put a marker down and set out our stall early doors.
"The second half was a bit disappointing in terms of the momentum, but fair play to Caldy, they defended well and certainly attacked quite well.
"The support was fantastic. I was thinking there wouldn't be that many people there, it was St Patrick's Day, an international weekend and everyone had potentially booked things because it was going to be a weekend off.
"It just epitomises what the Cov support is all about – when you run out and take a moment to turn around and see just how many are there, the appreciation level and the performance level rise even more."
Daynes has played consistently well at six and eight, as well as in the second row, all season which he has confirmed will be his last at Butts Park.
"I don't know why that's been – I think it's playing with no fear, realising that potentially I would be moving on, not being here next season and not going up to the Championship, which has given me the urge to enjoy my last season at Cov," he said.
"I've signed a contract to go to Broadstreet as player-coach which is something I want to progress down the route. It's a great club, there's a lot of opportunity there, I was there on loan for a bit one season so I know what they're all about, and obviously my best mate, Cliffie Hodgson is there, so it seems seamless to go into that. I just felt it was the right time.
"A lot of people have asked me why I'm not staying to go into the Championship, and there's probably a number of reasons why I thought of leaving.
"The main reason was I wanted to end my career at Coventry on a positive and a high. There's arguments to say if I'd gone to the Championship that's another positive, but I'm now able to tick off a lot of boxes.
"I've been heavily involved in trying to get Coventry promoted since 2010, and that's done now.
"I've got a landmark achievement in terms of caps and I just want to have that lasting memory of it as a real positive and go out on a high.
"Not many people get that opportunity in their rugby career and I want to take that.
"I've got a business starting up, I've got a family to look after and want to spend more time with them, and obviously pursue other things. That will be my focus now.
"I started playing rugby when I was eight-years-old, and I know 30 is quite young when you look at people like Latu (Makaafi), Naz (Luke Narraway) and Sam (Tuitupou) – they've been going on and on, and at a higher level – but it does take a toll on your body, and there's that feeling of maybe I want to focus more on what happens in my future, like when I'm older and I want to play with my kids in the park, so I want to take that into consideration as well.
"Looking back to 2010 and seeing the changes that the club has gone through to get to where it is now, it's great to have been a part of it."
But although the boxes are ticked, Daynes is not stopping just yet.
"I'm looking forward to the last five games – there's no feeling in me to say I'm done now I've reached that milestone because I don't want to look back one day and say 'why didn't you play those extra games?'
"100 per cent the big focus now will be to set our stall out to prove what we're all about to the Championship teams because they'll have one eye on us now and every team we play will want to take our scalp because we're the champions.
"We've got to make sure we end on a high."
Commented director of rugby, Rowland Winter:
"Brett iis definitely the class clown, and he deserves credit for why this group of players are so close. His annoyingly tireless work to make sure the team enjoy a social or the bus trip home will be difficult to replace. 
"But that often hides the fact that he is one of the most consistent performers on the pitch, he is in great form, and has worked hard to improve and evolve his game to make sure he reached his target of 150 games, which is a fantastic achievement. 
"We discussed an opportunity for him to be involved again next year, but Brett wanted to go out on top by winning the league and reaching 150 caps. He felt the time was right to move on and start a new challenge by taking on a coaching role. We respect and support his decision, Broadstreet are getting a great Cov clubman, on and off the pitch, and that will build a stronger link between the two clubs."