GAME sponsors Unipart's man of the match last weekend, back row forward Brett Daynes has got his seventh season at Butts Park firmly back on track.
The 30-year-old, who has been with Coventry throughout their time in National League One since 2010 apart from one season at Cambridge, scored the opening try in the 36-0 victory over Loughborough Students to continue an impressive return to the side.
After a good start to pre-season, Daynes picked up a chest injury in the warm-up game at Jersey Reds and, on the bench for the first two league games, was called up to start at Old Albanian only to then find himself in the development side for the next two weeks.
"It was a bit demoralising at first as a step back," said Daynes, "but to then get a starting berth back was really nice and I feel like I've played two good games in the last two weeks, so I can't complain.
"At the time it wasn't a great feeling going into the development side, but when you go out on to the pitch, rugby is rugby and you're playing with guys who have the same desire as you to get into the first team.
"It becomes a case of let's get the job done as individuals and as a team, and it was actually incredible on the pitch and also afterwards – the lads were really good in terms of morale and a good crack, so to be around that was nice.
"I think it served as a mixture of a spur to get me fighting for my place again and also just to get me some game time.
"The level is good enough that you can still enhance your skills and work on things that the coaches say you need to work on – after the OAs game I was told I needed to bring some more energy and physicality, and it was something I could go and do in the development games."
More usually selected at blind side, Daynes has started the last two games at No.8 and, when replacements have been made, has found himself quite regularly in the second row.
"I've been called a 5 and a half, but when you've got people like George Oram, Nile Dacres, Tom Poole and Tom Jubb all there and they are still looking at you as someone to go into second row, it does give you a good feeling to know that they've got the confidence in you playing in that position," he said.
"To be fair, I'm grateful that I'm even in the squad and, again, it's not what you might want ideally but when you are out on the pitch, at the end of the day you're playing the game and you want to enjoy it no matter where you play.
"I like 6, but in the last two games I've actually enjoyed being at 8. I suppose maybe one of the reasons is because I really have to focus on what my job is whereas at 6 it comes a bit more naturally and you can easily slip away and get a bit complacent because you know what to do in that role.
"I like all the back row positions, but if I had to prioritise I'd probably go 6, 8, 7, then 5, then 4….and maybe throw 12 in there as well!"
The back row was an area where Cov recruited strongly in the summer, and Daynes believes the added competition has had a positive effect.
"When you first look at it, it's like am I seen as just a squad player and one of those people who can come in and out? Then as you go further along and into pre-season, you start to realise that it actually pushes you that little bit to work harder and play better, and it actually spurred me on more than anything.
"When you've got people like Luke Narraway, Latu Makaafi and Jack Preece all giving you tips and helping in development, the experience they bring and the little bits you might learn from them are invaluable.
"We all bounce off each other, and when everyone's doing their job, you're enjoying playing with each other and there's no partnership that we can't do without – anybody can step in, and that's the great thing about it. We do get on really well as a team and a squad off the pitch, and that bodes well on the pitch.
"Nowadays the kids that are coming through are, like, all 6 feet 7 and can run the 100 in 11 seconds flat – they are just so powerful.
"The physicality side of things warrants a big squad because I don't think anyone can go through a season playing in every game like I always wanted to unless, perhaps, you play in a position where you don't have too much contact."
Daynes has seen big changes across his two spells at Butts Park.
"There's a massive difference. When I arrived in 2010 I'd come from being at Bedford where I'd hardly played, sitting on the bench, so although I'd learnt a lot at training I never got to enhance those skills.
"Now in the last two years that I've been back at Cov the experience I've gained is more than I'd got over the rest of my time there, and that's just because of the calibre of the people they're bringing in. At training it's not just about doing team runs on the Tuesday and the Thursday, it's about learning about specific areas of the game and improving where you need to improve, and I've grown more on the technical side.
"This is the best start to a season I've been involved in – it's incredible. It can be a bad thing, but it seems like it's just spurring people on and no-one is complacent in training, saying we've had a good win, let's take it easy this week, everyone is pushing on and making sure we're on the ball in training.
"If you're winning it does help massively with confidence, and when your defence has gone two games without conceding a point that's something that brings confidence in itself – being able to defend our own line when we're winning 64-0 or 36-0, having that pride that they won't cross it."
Married with a young child and an expanding new business venture in partnership with his mother – Total Netball, designed to bring women who used to play back into the sport – Daynes acknowledges that he will have a decision to make at the end of season, especially if Cov win promotion.
"I couldn't go back to being full-time because of my age, my commitments at home and my work," said Daynes, who reached 132 appearances for Cov last Saturday.
"My goal, if I'm completely honest, is to try to get to 150 games for the club – that's been my aim since I came back to Cov last season, and I can only assess where I am and what I'm going to be doing once I get to the end of the season.
"The way it's going, not just with the size of the youngsters coming through but with the professional side, you can't just turn up to train and then go home, you have to give it full commitment.
"At the start of the season I was pretty sure I wouldn't be staying if we went up to the Championship, but as we go on more and more, it's sliding the other way. I'll have to wait and see.
"Cambridge this week is going to be a physical encounter, they're a good side, but it will be the same as every week because every team we play wants to knock us off top spot.
"I've got to be selected yet, but I'm really looking forward to it – hopefully the weather will stay okay so it will be a good game for the neutrals, and we just need make sure we get the points."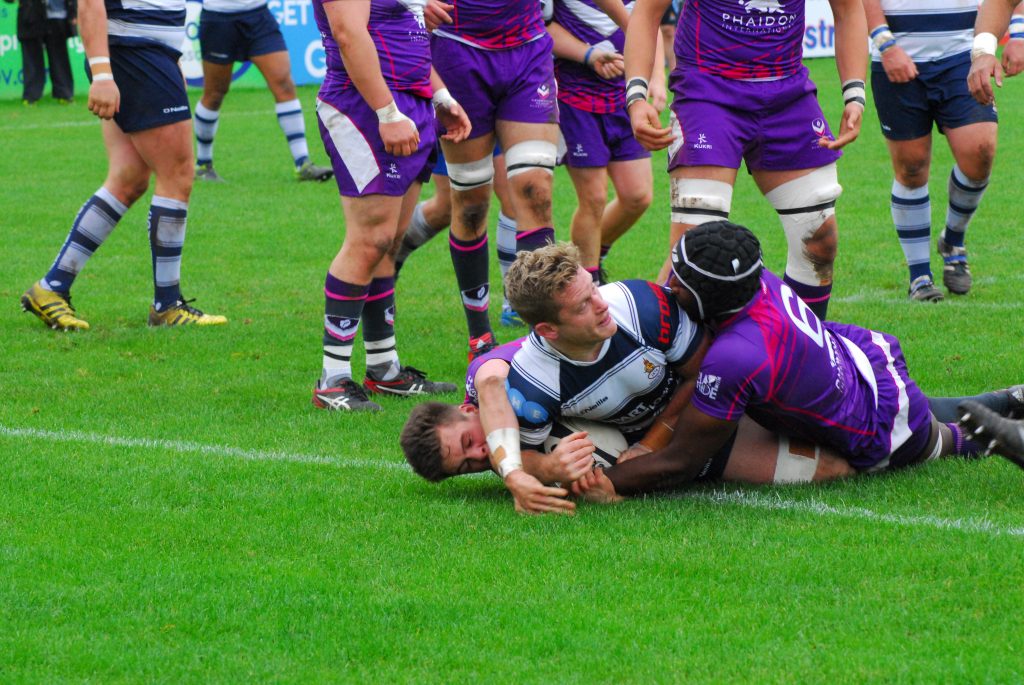 Brett Daynes scores Cov's opener against Loughborough Students. Picture by Nick Meredith