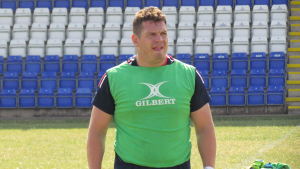 Coventry Rugby Club Captain Phil Boulton admits he is excited for the under-18's programme to launch and for all the players recruited to be training together.
The programme will launch on 13 August with an invitational training session between 6.30-8.30pm and Boulton, who will lead the training curriculum has been working hard to make it a success.
"I'm excited to see them all here training," said Boulton.
"I have been going around several clubs and selling our under-18s programme to them and I have done a launch with the under-18 colts at their annual general meetings last month.
"The programme is going live in August, so we are going to be holding the first training session where players are going to be put through their paces here at Butts Park Arena with me and the other coaches.
"The programme is going to be led by me with the coaching team made up of Tom Kessell and Sam Tuitupou who will have different responsibilities, as well as Simon Kidney who will come in to coach the side, there will also be other players that drop in and help with position specific training and coaching throughout the programme and the season as well."
Players selected for the programme will receive a professional standard of training with supplementary factors that will aid players development, but these players will return to their parent clubs every month after sessions with Coventry Rugby.
This programme will be run similarly to how the Coventry's first team are with facilities and additional help from physio's, strength and conditioning coaches and nutritionists all on offer to aid the players' growth.
Boulton continued: "There will also be strength and conditioning coaches so there will be one of Max Hartman's team involved with the squad, writing out programmes for them and helping the boys progress.
"There is also a medical set-up too, so we are running it as a mini first team. It has been important that we have got everything set up in place for them and showing them that there are other ways into the professional game.
With the programme portraying such a generous offer to play rugby of a good quality and to help young players grow their skills and abilities, Boulton explained just how enthusiastic he is about Coventry's under-18's start in August.
He added: "We are not bound by any geographical boundaries with us not being an RFU Academy, so we have had a few boys come in that are out of area as well.
"I have been around and watched a few of them and there are some quality boys coming into the programme and I have also seen some clips that have been sent into me, I'm excited to see what the quality of rugby is going to be like."
The launch is open to all coaches and parents and the club will outline how we can help support your players and clubs throughout the season, including how you can get guest coaching sessions at your school or clubs.
For any further information please contact our Rugby Development Officer Phil Boulton – pboulton@coventryrugby.co.uk.