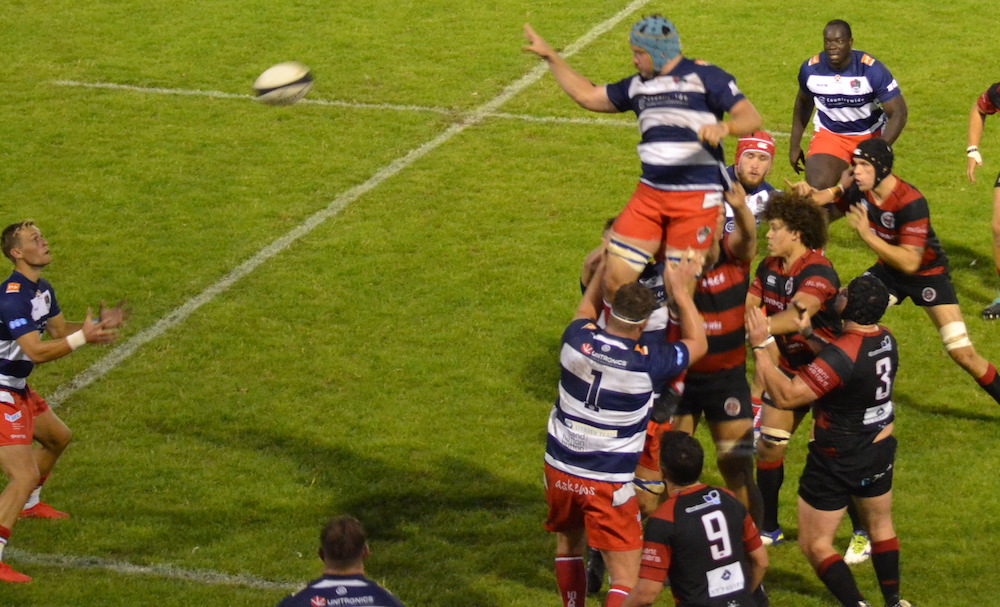 Coventry ran out winners 17-14 at Billesley Common, outscoring Birmingham Moseley three tries to two.
Moseley came out firing and were in front after only two minutes. A pair of penalties were kicked to the corner, and while Coventry's defence held out an initial drive and then repeated phases as play worked towards the middle the numbers eventually ran out and Ben Palmer was over for the score.
Fly half Palmer converted his own effort, but aside from a neatly-worked lineout move down the short side that was as promising as it got for Moseley in the first half.
Instead it was Coventry who gradually took control, and by the time the whistle blew for half-time the visitors had a deserved 10-point lead.
There were some dangerous-looking attacks – Pete White and Andy Bulumakau combining down the right wing with some interplay which brought a yellow card for Louis Roach, and Rob Povey sparking a move which was only ended close to the home line.
The breakthrough came a couple of minutes into the second quarter, Scott Tolmie the beneficiary of a powerful drive which splintered the Moseley pack.
Tolmie's front row partner Toby Trinder – who had won a series of scrum penalties earlier in the half – was next, put through by a Ben Adams offload which took out the blitzing home defence.
The third was finished by James Martin, who collected an inch-perfect Dan Lewis chip in space to dot down unopposed in the corner.
Having built up some good momentum as the first half wore on, the third quarter proved frustrating for the visitors. Injuries and replacements meant that any flow to the action failed to be forthcoming, compounded by regular penalties being conceded by both sides.
This meant that it was no surprise that it took some time for a score to come, but it was one which brought cheers from the home fans.
Jacques Le Roux's powerful break through the middle had Coventry scrambling, but not even this was quick enough to prevent Aquile Smith going over in the corner. Palmer's second conversion was a peach from the touchline, and with the game entering its final 10 minutes Coventry's lead was just three points.
Indeed the visitors' best position to that point in the half had been a five-metre scrum courtesy of some ambitious misadventure from John Davetanivalu. That was ultimately seen off by the hosts, who won a penalty, as was a similar situation in the latter stages, Harry Charter fumbling the ball in a tackle.
With the club's youngsters being given plenty of game time in the second half and the quality of the first half scores there were quite a few positives to take home from the evening, but plenty to work on, too.
BIRMINGHAM MOSELEY
16 Louis Roach; 14 John Davetanivalu, 13 Kieran Joyce, 12 Ravi Fatiaki, 11 Mason Tonks; 10 Ben Palmer, 9 Jonny Arr (capt); 1 Nathaniel Titchard-Jones, 2 Peter Austin, 3 James Tideswell, 4 Tony Worthington, 5 Danny Wright, 6 Buster Lawrence, 7 Michael Stephens, 8 Jacques Le Roux
Replacements
Joe Foreman, Ethan Priest, Will Biggs, Rhys Roberts, Matt Spink, Aaron Crofts, Morgan Dawes, Jack Jolly, Matt Dight, Jamal Gask Clarke, Aquile Smith, Harry O'Brien
COVENTRY RUGBY
15 Rob Povey; 14 James Martin, 13 Andy Bulumakau, 12 Will Owen (capt), 11 Max Trimble; 10 Dan Lewis, 9 Pete White; 1 Toby Trinder, 2 Scott Tolmie, 3 Luc Jeannot, 4 Scott Russell, 5 James Voss, 6 Ben Adams, 7 Jack Ram, 8 Senitiki Nayalo
Replacements
Shaun Allsopp, James Gibbons, Gareth Denman, Ed Enoka, Harry Charter, Archie Strath, Will Flinn, Morgan Dayes, Paul Wells, Cameron Sharpe