COVENTRY'S first home game of the season was memorable in a number of ways, and particularly for Ben Palmer who marked his league debut for his home city club with an eye-catching try in the 50-11 demolition of local rivals Birmingham Moseley.
The 24-year-old fly-half, who is in his second spell at the club and was named on the bench after Tony Fenner was injured at Hull Ionians, came on for the final quarter and marked his arrival with a scorching 30-metre run to the posts for Cov's eighth try.
"I saw their 12 drift so I just went for the hole," said Palmer, who didn't allow an injury-time yellow card to spoil his day.
"It was a really proud moment, and it was great to pull on the shirt. I grew up around here, I played here a few times when I was at Woodlands School, and to get on meant a lot to me."
Palmer, whose brother Josh is part of Cov's Development Academy, first came to Cov in pre-season before the 2014-15 campaign, but was unable to nail down a place in the match day squad.
"I went out on loan to Broadstreet before deciding to go back to New Zealand where I'd had a spell before and really enjoyed trying a different brand of rugby," he said.
"The only reason I left Cov was because I didn't feel I was going to get the opportunities to play, and to be honest I probably needed more National League experience, but when I spoke to Rowland Winter this time round he said that if I was playing well I would get my chance, and I felt he was being honest with me and I could take him to be true to his word."
Back in the UK, Palmer spent the second half of the 2015-16 season at Henley Hawks before moving to Cov's National League One rivals Old Albanian where he made 27 appearances last season, scoring 173 points which included 22 in a thrilling 43-42 defeat at Butts Park Arena but missing the return which ended in a 73-8 win for Cov.
"I had a hand injury – I think it was a good one to miss," he said. "They're a family club, a bit like Coventry really but not as big, and I had the opportunity to stay there for this season which originally was what I was going to do before Rowland got in touch with me and said would I like to come down and have a chat.
"With the ambition of Coventry and because I'm living at home, only about five minutes from the ground, it made sense to come back."
With two established fly-halves in Will Maisey – a Warwickshire Schools team-mate in their younger days – and Tony Fenner already at Cov, the decision to return could have been seen as a bit of a gamble but he was happy to back his ability.
"I definitely saw it as a challenge, but I felt that if I could establish myself in the team I could do okay," said Palmer, who away from the club is currently in his training year teaching PE at Tudor Grange Academy in Solihull. "The competition makes it a bit difficult, but it brings the best out of you because you're having to compete against such good players.
"I knew the situation, and Rowland told me to be patient and bide my time and I'd be given an opportunity – I didn't see it coming this early, it's sooner than I expected, but injuries happen and it's ideal for me.
"It would be nice to be in the squad to play at Old Albanian on Saturday, I still speak to a few of the boys there and it would be good to go back and get a victory.
"Obviously I'd like to start a couple of games at 10, that would be the ideal situation, but really if I could play some games at full-back that doesn't bother me at all.
"It would be great to help the club get promotion this season and hopefully be around for next year – there's a good buzz around the place, especially after the match on Saturday."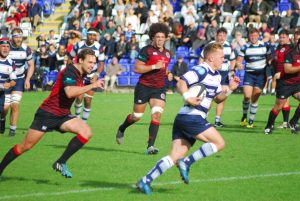 Ben Palmer leaves the Moseley defence in his wake. Picture by Nick Meredith