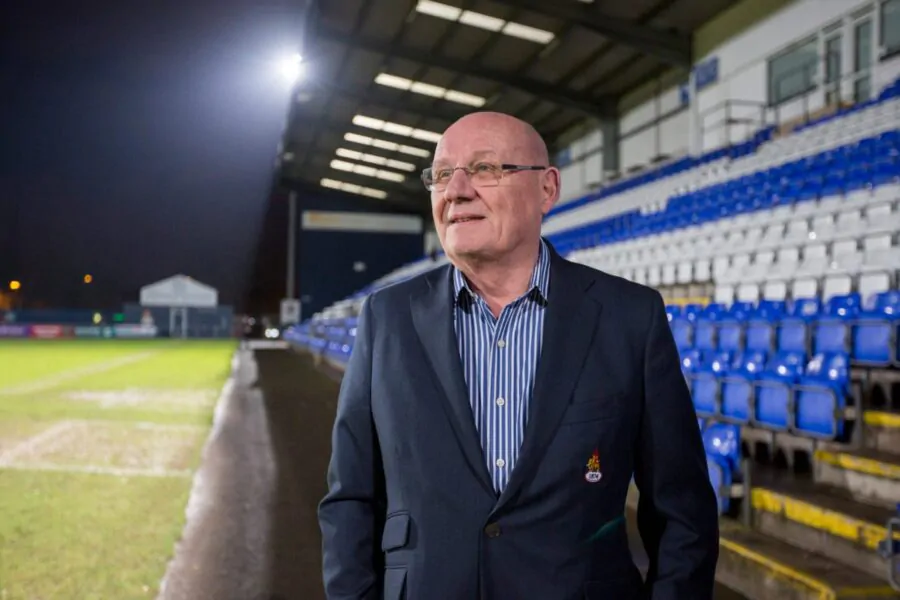 State of the game
We now have a two-week break to pause and reflect on the Premiership Rugby Cup and to look forward to the Championship and what the future holds for Coventry Rugby in our 150th year.
The Cup Competition
I am extraordinarily proud of our team and what they achieved particularly against Premiership opposition. The aggregate record against Saracens, Harlequins and Gloucester reads: –
P:3 W:1 D:1 L:1 F:80 A:67
I know those clubs did not put out full first XVs, but there were plenty of senior players and indeed internationals scattered through their ranks. 'Cov dog' was there in abundance, particularly at Kingsholm, where we made lots of friends for the way we played. Coaches Alex Rae, James Scaysbrook and Gordon Ross are to be congratulated for developing this squad. A special mention must also go to those who don't get named so often: head of strength and conditioning Chris Hart, senior physio Andy Hemming, lead analyst Ed Barker and their respective staff. A true club effort that bodes well for the Championship.
The Championship
Very sad then, that on the back of this apparently rosy picture for Coventry Rugby, there is much concern about the future.
Our league start has been delayed by one week owing to the sad demise of Jersey Reds. When the news broke the Cov squad and many supporters had already booked and paid for flights and accommodation in Jersey, so we will still travel and arrange a Coventry Rugby event where fans can mix with our squad and management.
Interesting to read that the RFU apparently had no inkling that the failure of Jersey Reds might happen. Yet when the Championship chair Simon Halliday attended the PGB meeting on September 21st he specifically warned of this.
Halliday stated in the Rugby Paper on October 1st: "It has fuelled deep concern amongst the Championship clubs that the RFU leadership's underlying lack of commitment to the second tier of the English game is due to a covert multi-million-pound, pre-trading deal it has agreed with the Premiership."
Bill Sweeney countered stating: "We firmly believe in a strong second tier," and "We have had consistent talks with the Championship clubs." He then followed with: "We have not been able to confirm the level of funding which will have to wait until the Professional Game Partnership (formerly the PGA) is agreed."
The investors who withdrew support from the Reds specifically stated that their decision was due to uncertainty over continued RFU funding to the Championship.
Many informed critics of the previous eight-year PGA claimed the RFU could not afford it. However, the new PGP (i.e. the 'covert deal' Halliday referenced) apparently increases the amount provided to Premiership Rugby Limited (PRL) by £76m to £296m.
Because 27 per cent of PRL is owned by CVC Capital Partners, the latter will receive c.£80m of this. While unconfirmed (Sweeney is right about that at least) it is believed that during the new PGA, the Championship will receive c.£32m over the same eight years.
Some further numbers to contemplate: –
RFU forecasts it will lose £40m next year.
It forecasts it will lose money every year up to 2030.
Its own wage bill is around £40m p.a.
PRL is £250m in debt.
As Halliday said in the front-page headline in the Rugby Paper on October 1st: "This is no way to run a pro sport."
Meanwhile Sweeney blithely stated in his most recent pontification: "We are on the brink of something spectacular." This produces the same level of disbelief as his pronouncement when he first cut Championship funding in 2020 that the goal was: "Back-to back World Cups."
It is evident to even the most casual observer that the England men's team is a shadow of yesteryear, largely because it relies on players well past their prime. In my view this is because the development pathway is inadequate: –
The PRL academy system does not work to best effect because all suitable talent has to be spotted at such an early age.
Yet many late developers plus other unnoticed talent are often nurtured by Championship clubs, but with no funding to recognise and support this vital role.
The continued, anti-competitive ring-fence around the Premiership stifles ambition and the development of players.
Meanwhile PRL clubs are encouraged to bring in non-English-qualified players as part of the marquee system, outside their salary cap.
The results for the national team are stark.
This blinkered, elitist system is perpetuated at the cost of our game, not just the Championship but at every level. We hear that many of our local clubs, so important to the recruitment and development of talent, and the social fabric of the game, are struggling to find players. Yes, fiddling with tackle laws and so on doesn't help, but the RFU must shoulder considerable blame. The last PGA allocated 72 per cent of RFU funding to the Premiership with only 28 per cent allocated to the other 1,500-odd clubs in this country. The proposed new PGP skews it even further.
Radical change is needed and the Championship clubs, with Coventry Rugby in the form of Chief Exec Nick Johnston and your Chairman to the fore, are working hard to drive this and to create a more equitable and commercially viable new world.
Coventry Rugby
Knowing that we cannot rely on anyone else, we at Coventry Rugby focus on what we can influence and achieve. Our key strategy has long been, and continues to be, to achieve financial sustainability independent of any benefactor.
The journey so far is proof that investment with the right focus will reap dividends: –
When I first started here, we played in the depths of National One. Our average attendance was about 650 and our annual turnover approx. £600k p.a.
Last season we came third in the Championship (our highest finish since the advent of professionalism), and are now ranked 12th in the country whilst regularly nudging 3,000 attendances and turning over in excess of £2m p.a.
We have recently increased our ground capacity to 5,250.
Twelve years ago the stadium was open for events on around 25 days each season, now something happens here nearly every day.
We have full-time staff or partners in every recognized business discipline and aspire to be professional in everything we do.
We have a fully-professional playing squad and an academy, with links throughout the region to junior clubs, schools and colleges.
We run a successful wheelchair rugby team.
Our latest addition is a ladies' netball team.
We have a full-time community department. We provide coaching to local clubs, we work in local schools and run multi-sports camps for children.
Project 500 is a significant and regular event in bringing sport and well-being to disadvantaged kids in the community.
All this and much more is funded by the club, its charitable foundation and by donations. Much to be proud of.
Nick Johnston and his team continue to work across the board to make all-round improvements and to increase rugby-related income:
Drawing bigger attendances by playing winning, attractive rugby – Alex and the rugby staff have a massive part to play and last year's league and this year's cup success are testimony to that.
By improving the match day experience and becoming more efficient at selling our products – Matt Cannon and his commercial staff are doing a great job in driving this, with more to come.
All of that will pay dividends, but even then, it's not enough since rugby-related income alone will never fulfil our aspirations. We therefore now need to move up a gear and build on the sound footing created.
Immediately, we need new partnerships and sponsorships bringing mutual benefits. To this end, we have structured some new packages for our 150th anniversary season to attract new partners.
Long-term we need ongoing non-rugby income sources which can only flow from the development of the BPA site. This involves not only bigger and better spectator, rugby and community facilities but also sympathetically-designed commercial facilities which generate continuing income for the club.
We have now tried twice to achieve these objectives using developers but without success as differing agendas, Covid and economic chaos have got in the way. We are therefore now embarked on a new path, putting up risk capital ourselves to get this over the line.
We are well into the pre-planning stage working closely with city council planners, and we believe we finally have a workable and financially viable solution. The sensitive development of residential blocks will create capital with which the club can build a new stand, additional rugby and community facilities plus a hotel and other commercial operations which will generate long-term income for Coventry Rugby.
When this complex is complete with around £50m of assets added, our balance sheet will be the strongest in this league and the envy of all. Investors will then have a secure foundation -we welcome new shareholders to participate in this process.
The ultimate vision is that Butts Park Arena becomes a thriving sporting hub in the heart of the city, hosting a variety of sports and serving the community at large. Coventry Rugby will then be at the core of a self-funding, vibrant business.
The next two years as we deliver these agendas are crucial, and your assistance (hopefully financially and also through ideas and connections) in getting there is key. We have the best support in the Championship and together we can leave a lasting legacy.
Jon Sharp