SATURDAY gone is guaranteed to stay in the memory of Coventry's loose head prop Andy Brown as more than just the occasion of his 100th league appearance.
An early injury to front row partner Luc Jeannot meant that he had to play the full 80 minutes of the 48-13 win over Old Elthamians, a rarity for a prop these days and something he hadn't experienced for quite a while – and that in a season when his playing career might have been ended by a finger problem.
"It was a great day, and the result just topped it off," said Brown who received a standing ovation when he led out the team at Butts Park Arena.
"The Coventry fans have been really good all the time I've been at the club, and to get a reception like that was quite emotional. People were coming up to me in the bar afterwards and congratulating me, so it was a very proud day.
"I'm delighted to get to 100 and hopefully there's still a few more to add.
"I thought the performance was outstanding, especially the second half. Coming out for the second half a man downI was thinking if they score next it's going to be quite a close game, but I thought we really blew them away and showed our class.
"After about 12 or 14 minutes I heard the referee say 'the prop's coming off injured', so I knew from then it was 80 minutes. But it was nice, I hadn't played a full game for quite a long time and I think I still had a little bit left in the tank at the end – or maybe not!
"I thoroughly enjoyed it."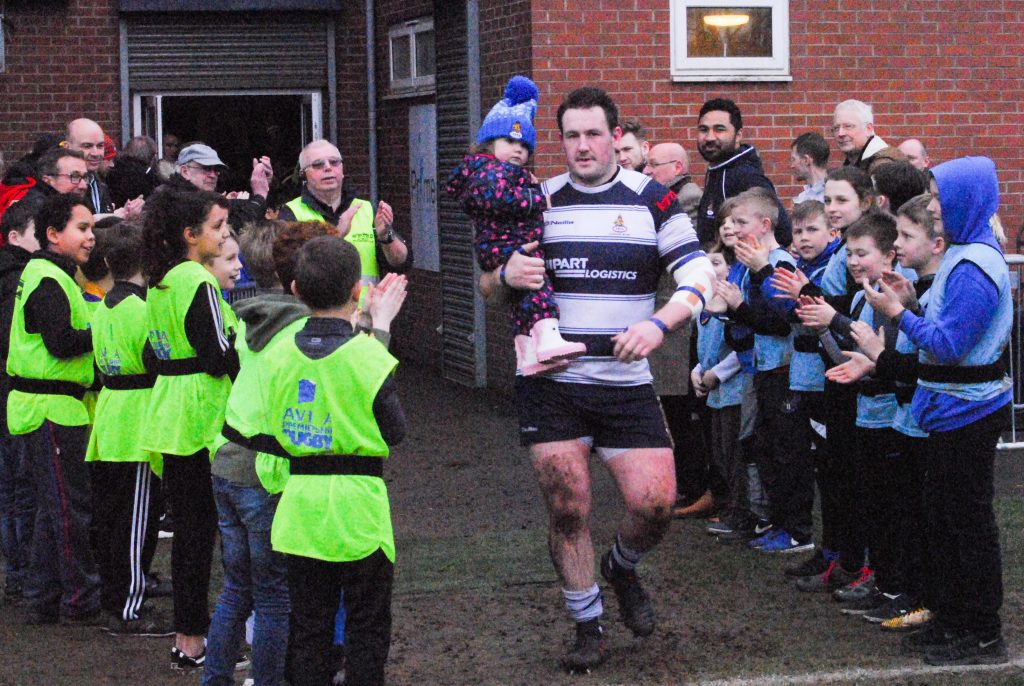 Andy Brown leading out Coventry last weekend with daughter Lilly.  Picture: Nick Meredith
Brown injured the little finger of his left hand in the fourth game of the season at home to Blackheath and only returned to the side at the start of February after a tough recovery.
"It was one of the last plays of the game, I went in for a tackle and suffered a tendon split in my little finger," he said.
"It was quite badly damaged and I had to have an operation to put it straight, but although the surgery worked okay, my dressing was on too tight for four days and that caused my finger to die.
"To be honest, at one point it was looking as if they would take the finger off and I wouldn't be playing rugby again.
"I've worked very, very hard to get it right, doing hand therapy with our physio Hannah and at Derby Hospital where I'm still going every three weeks.
"Basically, I've had to give up getting it straight which is what hospital was all about. It wasn't working as a finger how I wanted it to.
"Mechanically now it works fine and it's not affecting me at scrums. Initially I tried to come back too early and I was collapsing a couple of scrums because I wasn't getting my grip 100 per cent, but I've been patient, bided my time, and got it back to where it should be to make sure I can play."
England Counties cap Brown, 28, works full-time away from rugby as a cattle procurement manager for ABP Food Group, one of Europe's leading food processors, and has been at Cov for the last five seasons after initially coming on loan from Doncaster in the 2011-12 campaign. He is hoping to be on board at Butts Park next season.
"There's no other club I'd want to go to, and providing I can sort out some work commitments it will give me the yes or no for what I can do next season," he said. "It's in my mind that I will be a Coventry player next year.
"I still feel I've got quite a lot to give. I know that if I was to stay I'd probably be one of the very, very few holding down a full-time job as well and I'm quite career-minded, so it will be 'if' and 'how' I can work around it with the training regime next season.
"We've just had a new recruit to the family as well, Jack, who was four weeks old on Monday and we have a little girl, Lilly, who is 18 months."
In the meantime, Brown is enjoying the moment.
"In the last five years I've been at the club, every pre-season people have said 'this is the one' and it hasn't worked out before now, so to be involved and playing a role now is pretty special.
"If you'd said at the start of the season we'd potentially be lifting the National League One title away at Caldy, we'd have taken it, and if we go undefeated for the rest of the season I think that would be a great achievement.
"It's a tough league and we've had to work very hard. A lot of teams have found out  – and I think Rotherham will next year – that you just don't bounce back up when you drop into this league."
One thing missing for Brown – who scored a hat-trick at Tynedale in the 2014-15 season – is a try.
"I don't think I'll ever quite get a hat-trick again, but it would be nice to have another touchdown to complete the season."