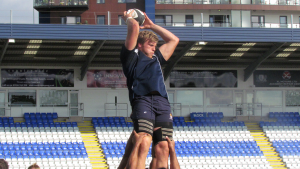 Coventry Rugby forward Adam Peters remains wary of the forceful threat that Jersey Reds will pose to the side ahead of Saturdays clash with the Islanders at Butts Park Arena.
The Blue and Whites make their return to the Greene King IPA Championship after a long absence from the second tier and after a 100% record in pre-season, the side boasts a successful realm of confidence heading into the league fixtures.
He said: "Jersey are renowned for having a big pack, they like to scrum, they like to maul, they like to kick to corners and maul for penalties.
"We have done a lot of work, Boris Stankovich who has come in from Leicester Tigers and obviously Louis Deacon who is a great forwards coach, our line outs have definitely sharpened up so from that point of view we will be happy moving forward and hopefully we can put up a good test for Jersey and get the win that we want".
The loose forward made his debut in Blue and White in Coventry's 55-14 win over Wasps last weekend and the 24-year-old believes Ed Robinson's appointment as Assistant Coach at the Reds will give them an extra edge that the side need to deal with.
He said: "I was fortunate enough to get into the squad last weekend and have a good run against Wasps, Jersey will be a great outfit, they have a strong squad and have had a good pre-season themselves.
"They have good coaching staff with Ed Robinson coming in to run their skills and backs side of things, so we should expect them to come full force, but we will be ready and prepared as well".
After experiencing the raucous crowd at Butts Park Arena last Saturday, Peters admits the crowd were a decisive factor in the sides upturn in performance during the second-half mauling of Wasps.
He said: "I have been very impressed with the crowd and the support we have had so far this season, I think there was 2,000 plus at the weekend which is great for a preseason game and if we can keep that fanbase going that would be awesome.
"To run out to a roaring crowd and having that 16thman is excellent so hopefully we can build on that, obviously that is performance based for us that we perform and then they will want to turn up more, so yes I am looking forward to the weekend".
In hope of sustaining a regular spot in the Coventry Rugby first XV squad this season, the 24-year-old stated his aims of what he wants to get out of the Jersey match and how the side can benefit from it.
He added: "From a personal point of view just performing and being happy with how I perform individually but obviously collectively as a team as well, that is the most important thing, that we bind together, we bind what we are going to do and what we are going to bring into the game.
"We need to train hard this week and then just take it to them on the front foot and then the end result will take care of itself, if we put in a good performance hopefully we will come away with the win and that is exactly what we want."
https://www.youtube.com/watch?v=XHJ4rVkBN3o&feature=youtu.be
---
Jack Ram's thoughts
https://www.youtube.com/watch?v=d6HgQiK5Aaw&feature=youtu.be