IT will be a very special moment in an already special season for club captain Phil Boulton when the National League One trophy is presented to Coventry Rugby at the final home game of the season.
In a career which includes playing at Rotherham Titans, Leicester and 200-plus games for Bedford Blues, it will be the first time that the 31-year-old tight head prop has lifted any silverware – and he can't wait for it to happen.
"I've never won anything in my career that's tangible," said Boulton, who has signed a new two-year deal which, as well as playing, will see him full-time with the club next season in the role of a rugby development officer with a particular focus on launching an under-18 programme.
"I played in two finals, and lost both, and in four semi-finals with Bedford – it will be a nice feeling to actually get my hands on the trophy and lift it, and I'm feeling pretty proud now."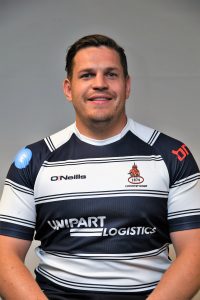 Cov have won all but one of their 25 games this season on an irresistible charge to the title, but Boulton believes the title-run really began early last year.
"People will think that we've done it this season, but it's a two-year project and we probably won the league starting back after Christmas last year," he said. "We got our act together and got some decent form to finish the season on a winning run, and having that momentum really did help at the start of this season.
"We knew we had an opportunity to do something, and I've worked really hard to make sure that everybody coming into the team has been on the same page.
"The majority of this year we've had that, it's been good, and to my mind we haven't wasted any training sessions – we've been on it the whole season.
"I really like the captaincy role. I'm not necessarily saying I'm a born leader, perhaps an emerged leader, and I've been blessed with a good leadership team around me. I do feel that I've learnt a lot and the lads around me, the older ones, have really helped.
"I am looking forward to playing in the Championship again. As fun as it's been in National One, Coventry Rugby Club shouldn't be there and the Championship is where we belong."
Needing a bonus-point win to make sure, Boulton says there was deliberate pressure put on the team to play well at Caldy even with another five games to play.
"Sometimes you can try to play it down a little bit and it perhaps doesn't have the desired effect," he said.
"When we had a leadership meeting Alex Grove said we just need to play on it and say how important this game was for the club, how big it was, and put some pressure on the lads to perform because, ultimately, we were desperate to win the league that weekend.
"There was pressure before the game, but that made us focus and I think that showed in the way we played.
"Ploughing through various blizzards on the way up the motorway, getting out at the service station in a blizzard and the freezing cold, all added to the day so it was actually nice to get up there and see a bit of sunshine and some grass.
"That sort of set the tone a little bit and although Caldy made sure we had to work hard it was enjoyable."
And although the prime objective has been achieved, Boulton insists there will be no let up over the remaining weeks.
"Obviously we want to make sure that we finish this season well with not too much of a hangover or players demob happy. We'll set ourselves a few objectives for the final five games and there are some records to be broken.
"It's going to be a challenge for us next year, but this is also a new challenge for us now because having won the league we've got a different sort of outlook on the games that are coming up.
"We need to make sure we don't take things for granted and just think the job's already done.
"We all want to make sure as players that we do finish it off in style. Every single team we play in these last five games will have the motivation of beating the champions and we have some really tough fixtures – away at Plymouth, who haven't lost at home; away at Ampthill which is one of the most difficult places to play and where we will have to get ourselves in the right frame of mind the way their pitch is laid out; at home to Darlington Mowden Park who obviously have a point to prove after the way we beat them up there; and then Hull Ionians at home in the last game of the season when potentially they're going to need to win to stay up.
"While our mind set may change a tiny bit, it's not going to become any easier because other teams have that motivation to want to beat us.
"We're pretty blessed with the strength of support we have got, home and away, it's definitely a driving factor and something we'll play on for the next few weeks – we'll do it for the supporters.
"It was clear on Saturday how much it meant to so many people – I don't think I stopped shaking hands for 20 minutes afterwards."
And his added role next season?
"We started a Development team this year and to add to that we're launching an Under-18 Academy which I'll be heading up.
"Coaching is something I want to do when I finish playing, so it's nice to combine a bit of both.
"I've been trying to build up my coaching CV in the last couple of years, I've done bits with Warwickshire and Midlands Under-20s and at Earlsdon as well which I've really enjoyed, so next season is looking exciting un every way."