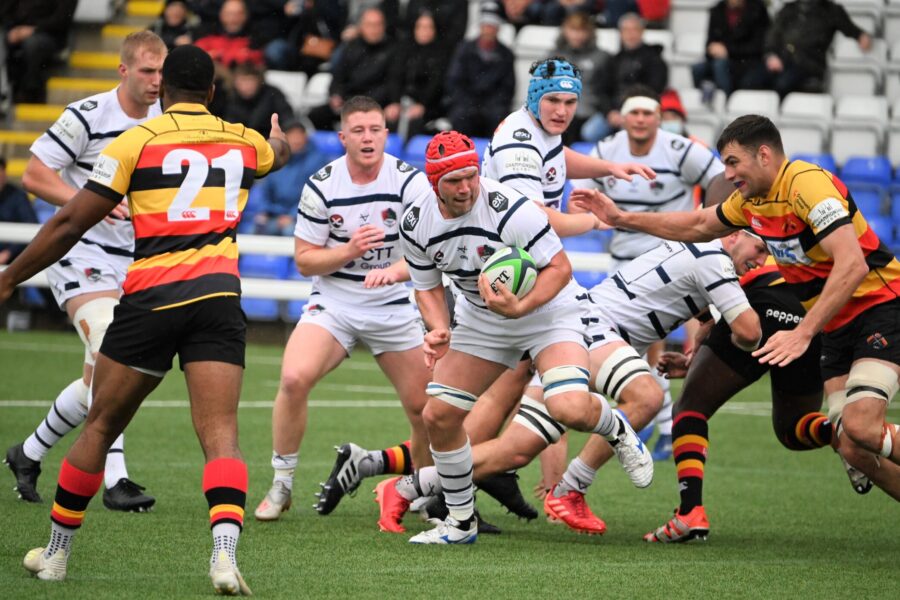 "A scrappy day with horrible conditions" is how Director of Rugby Rowland Winter described the low scoring victory against Richmond on Saturday. The heavy downpour was relentless, causing tough conditions for Coventry to get a foothold in the game and build upon the opportunities which the London side created.
Although not the prettiest display of rugby, Director of Rugby Rowland Winter was pleased with the outcome explaining "we've lost these games before and based on last weeks performance to come out here today and get a win is the relieving part".
Here are the moments that mattered:
Establishing dominance
Either team on the field seemed to handle the conditions with ease. With both teams struggling to establish dominance, the first ten minutes provided an early opportunity for Coventry to get ahead but Tony Fenner, unfortunately, failed to gain the points from the penalty, pinning the home crowd to the edge of their seat facing the uncertainty of the game.
Relief came in the 25 minute when Josh Barton rescued the ball from a slippery lineout, sending a quick spin to Rob Stevenson allowing him to rip through the Richmond defence like a hot knife through butter. Fenner converted the try for a 7-0 lead.
Danger for Coventry
Edging nearer to half-time, Richmond applied pressure and pushed closer to Coventry's 22. Try scorer Stevenson was sent off from a yellow card due to a deliberate knock-on – the visitors wasted no time in taking advantage of Coventry on their back foot.
Hamish Graham found himself in the right place at the right time – unfortunately for the Blue-and-Whites, with Captain Cameron Mitchell poking the ball through the tight grasps of Coventry's defence to an unmarked Graham who was able to crash over the try line and put five points on the board for Richmond.
Converting opportunities
A missed conversion from Richmond left only a two-point lead for Coventry going into the second half. Although there was everything to play for, Coventry struggled to make the most of the opportunities created and put up points.
A late opportunity presented itself when Richmond's Mark Bright carried out a dangerous attack just meters from the try line being sent to the sin bin for this offence. What appeared to be a second try for Coventry was disputed by the referee who blew for an infringement. This would be the last time Coventry would get close to the try line with extra penalty points being later added to the scoreboard by Fenner.
Richmond remained determined to the very end and with a late yellow card for Coventry's Rob Knox after another deliberate knock-on the visitors remained hopeful.
With some challenging fixtures coming up "we need to convert those opportunities otherwise we won't be winning these games" Winter added, "when we had the opportunity to execute those scores we didn't and that's what we've got to look at and that carried on from last week where the first half was similar to the second half today".
Attendance: 2027
Coventry 10
T: Rob Stevenson 26
C: Tony Fenner 26
P: Tony Fenner 73
Yellows: Rob Stevenson 35, Rob Knox 80
Richmond 05
T: Hamish Graham 37
Yellows: Mark Bright 55
Coventry
15 Tom Emery; 14 Tome Howe; 13 Rob Knox; 12 Tom Griffiths; 11 Rob Stevenson; 10 Tony Fenner; 09 Josh Barton; 01 Toby Trinder, 02 Suva Ma'asi, 03 Joe Jones, 04 Nile Dacres, 05 Jonathan Kpoku, 06 Adam Peters, 07 Josh Bainbridge, 08 Ryan Burrows (C).
16 Joe Richardson, 17 Ryan Bower, 18 Phil Boulton, 19 Rhys Thomas, 20 Fred Betteridge, 21 Joe Snow, 22 Evan Mitchell, 23 Connor Doherty.
Richmond
15 James Kane; 14 Hamish Graham; 13 Cameron Mitchell (C); 12 Ronnie Mclean;11 Max Trimble; 10 Ted Landray; 09 James Lennon;01 Jonny Harris, 02 Jack Musk, 03 Jimmy Litchfield, 04 Freddie Hosking, 05 Will Carrick-Smith, 06 Huw Worthington, 07 Toby Saysell, 08 Mark Bright, 09 James Lennon
16 James Hadfield, 17 Kurt Schonert, 18 Ntinga Mpiko, 19 David Massey, 20 Byron Hodge, 21 Lennox Anyanwu, 22 Callum Watson, 23 Lewis Dennett