COVENTRY Rugby's Development Academy players have hit the ground running in preparation for the club's first venture into the Zoo Sports Shield.
The 22-strong group has made a big impression during pre-season, leading to a call up to full senior squad training for Cameron Gray, Jimmy Neal and Kwacku Asiedu, and Academy players contributed to the wins over South Leicester and Nuneaton in Cov's opening warm-up games before excelling in their first full run-out in last weekend's win over Broadstreet.
"The squad is preparing very well for the new season," said Matt Price, head of community rugby & Development Academy. "We have been working hard with the gold group training alongside the seniors for the full duration of pre-season and the silver and bronze players joining a couple of weeks after that.
"I'm really happy with the progression of the group. All of the players have shown a clear understanding of how we want to play and it's just a case of training with the same intensity as the seniors.
"If we can match that and our skill level is right up there too, then we should go well in the Zoo league.
"I thought the group went really well last weekend for our first hit-out as a development squad.
"We asked them to stick to our shape and patterns, and I thought they did that well.
"I am constantly asking them to organise quickly, both in attack and defence, and then to execute which is what they did.
"Having the experience of senior players Cliffie Hodgson and Tom Wheatcroft in the side helped, as did having Cameron Gray in the pack for the whole game. That experience helps to shape the game and keep the rest of the boys on task.
"To beat a National Two side convincingly in the end demonstrates the level we want to perform at in the Zoo league this season. The challenge now is to get better and to keep knocking on the first-team door."
Other movement within the squad has seen Michael Ryan step up from silver to the gold group after showing real promise in training games, as have Tom Price and Kailus Hutchinson who are both gold members.
Prop forward Tarik Tin is pushing hard to move up from the bronze group to silver, while the club will be monitoring the progress of front row pair Charlie Knight and Jack Read who have returned to their junior clubs for game time.
"All in all it's been a really encouraging start to what we hope will become a positive pathway for local rugby talent," said Price.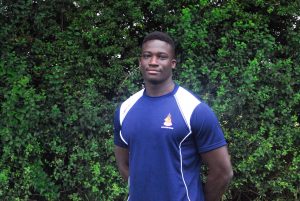 Kwaku Asiedu