SCRUM-HALF Pete White is the latest member of Coventry Rugby's high-flying squad to commit to a two-year contract extension.
The club is delighted to announce that the livewire 26-year-old England Counties No.9, who is in his second year at Butts Park, has signed a new deal which keeps him at Cov until the end of the 2019-20 campaign.
"It's something I wanted, when we talked Rowland (Winter) was keen to keep me and he was happy to offer me a two-year contract, and I snapped his hand off," said White, who has scored ten tries in his 35 appearance for the Blue & Whites.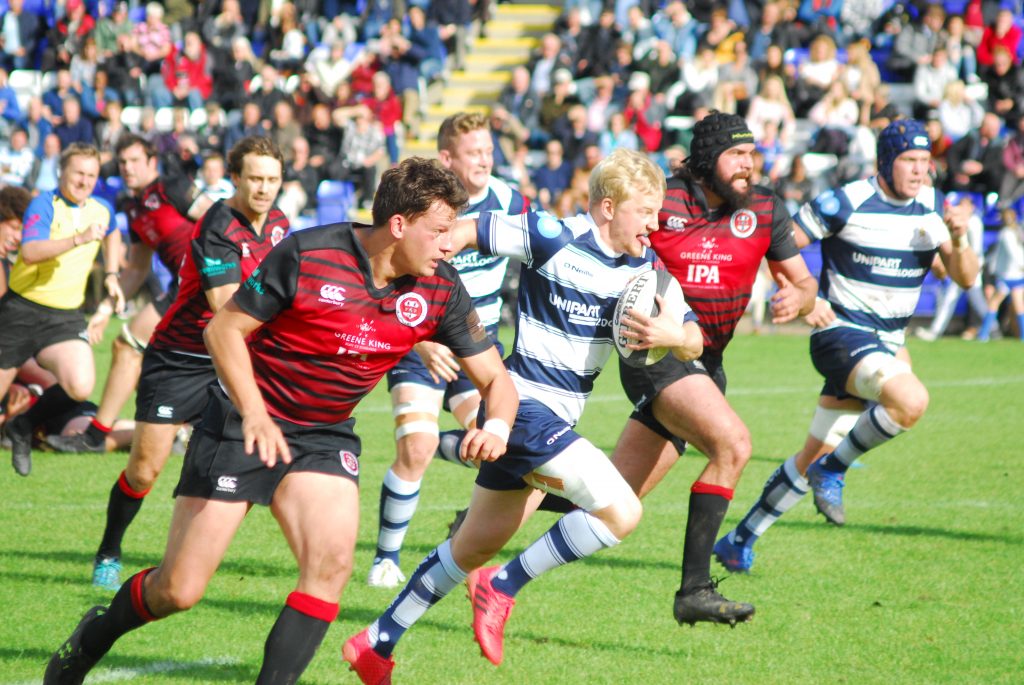 "I've really enjoyed my time here. The club is in a good place on the field, and I think off the field as well, and it's a good place to be at the moment.
"Morale is high, the lads are quality to be around, and obviously the results show that we're in a good place so, fingers crossed, we can continue that for the rest of the year and then see what happens after that."
White missed eight games after suffering a double injury in the home game against Bishop's Stortford in October, but while it was hard to see any positives at the time, he came back fresh and raring to go at a time of the season when others might be feeling the pace.
"I had a grade two cruciate ligament strain in my knee and a grade two tear to the lateral ligaments in my ankle," he said.
"It was frustrating to be injured and watching the lads doing so well, but it was a little bit of a break – although an unwanted one – and it did get me hungry again. I got back for the Moseley game before Christmas and then hit the ground running in the New Year.
"My knee recovered quite well, but the ankle probably held me back a couple more weeks than I wanted. I just had to bide my time and come back when it was right – I've still got to keep looking after it, doing rehab and working in the gym, to make sure I make it strong, but it feels really good.
"It's been great to have Dave Brazier back as well, he was also out injured for a while, and to have that competition again between us which was there at the start of the season.
"With me and Dave injured at the same time it was great for the club to be able to call on someone of the quality of Tom Kessell to come in and do a great job for us. It was good to watch.
"Tom's a really nice bloke. I've played against him before when he was at Cornish Pirates and he was a great player there which is why he got his contract at Northampton Saints."
Top of National League One and with a 16-point lead over closest rivals Darlington Mowden Park, Cov continue their quest for promotion back to the Championship at Loughborough Students on Saturday when the university's 3G pitch will offer a welcome change from the recent muddy conditions they have faced.
"It's been tough for the last couple of games, especially at home," said White. "The conditions haven't suited the way we want to play, but we've managed to deal with that very well and play some good stuff.
"That's credit to the forward pack and the work Louis Deacon does with them in the week – those lads have really fronted up to allow myself and the back line to still play some decent running rugby.
"Conditions haven't been the best, but we've adapted pretty well.
"Some of the lads are really looking forward to going to Loughborough and having a dry surface to play on, and hopefully a bit of dry weather, but really it's just another week.
"Loughborough are definitely going to give us some new challenges that hopefully the boys can overcome, we need to really showcase what we're about and focus on getting another five-point victory.
"I'm sure the Championship is something we'll talk about towards the end of the year. For now, we'll just keep focusing on what we're doing and building each week. We're taking each game as it comes, everyone we meet poses different challenges so we analyse each team we play and it's up to us to overcome them. Hopefully, if we keep winning every week we can get to our end goal of getting promoted, but there's no talk of it in camp at the moment.
"It would be great to get back there, not only for me but for the club as well – it's an ambition of the club and has been for some time."
White made 31 appearances in his two seasons at Bedford Blues before joining Cov and acknowledges that promotion would bring a significant step up.
"There is a big difference," he said. "The Championship is a lot quicker and it's certainly more physical – the hits will be a lot bigger. It's going to be a shock to quite a few, but I'm sure that with the squad that Rowland is building and the players we've got at the moment we will do well up there and give it a good crack."
White was a stand-out performer for England Counties last season and would relish another chance to pull on the white jersey this summer, although he concedes that club commitments may make that a non-starter.
"There's a tour at the end of the year and I have to be selected, but I think it will all depend on what happens at Cov. That will be my main focus and if we do get promoted I think I'd prefer to miss out on the tour to then come back to the club fresh for what's going to be a very tough pre-season."