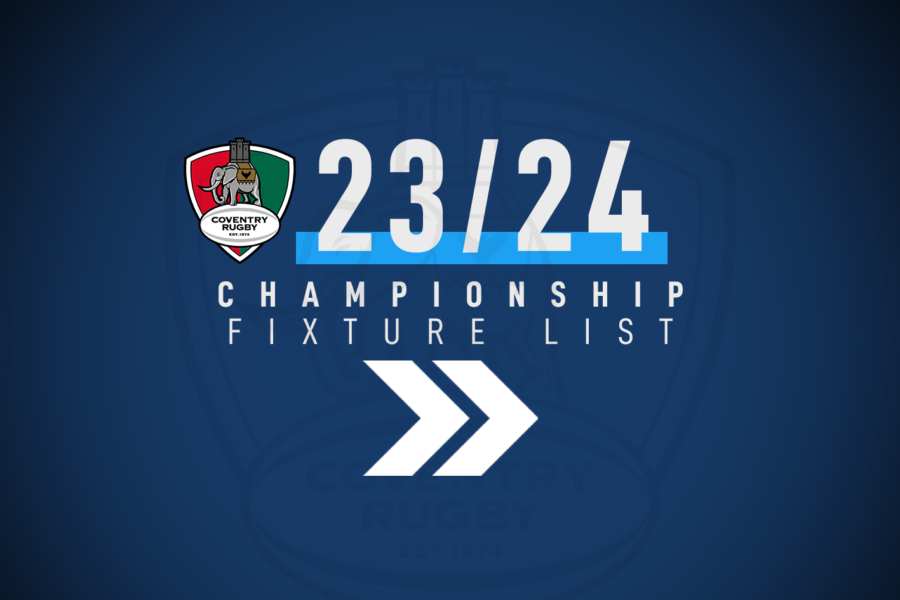 Written by Paul Smith
The Championship's fixture launch has handed Coventry Rugby a superb opportunity to send a statement of intent to their rivals.
Alex Rae's upwardly mobile team capped an outstanding 2022/23 season by claiming third place in English rugby's second tier behind Ealing and league winners Jersey.
And the islanders, who were denied promotion by the sport's governing body due to their ground failing to comply with regulations, now know they will launch their title defence with a home game against ambitious Coventry.
This mouth-watering clash takes place on an opening league weekend which is scheduled for October 21.
The 22-game league season extends to May 25 on which date Cov fans will be hoping that Jersey Reds' return trip to the Butts Park Arena is a title decider.
Cov's first home game in the league takes place in the competition's second round when Caldy are the October 28 visitors.
Rae's team first encounter title favourites Ealing when they make the trip to Valis Way in round five during late October.
Cov meet newly promoted Cambridge in round seven in early December while those seeking to watch the Blue-and-Whites over the Christmas break have Nottingham's visit to the BPA on Boxing Day or their trip to Bedford over the New Year weekend as options.
Rae said there is already a keen sense of anticipation for the coming season among Coventry's players and coaches.
"Playing our first game in Jersey against the defending champions is a really exciting start for the squad," he said.
"There won't be any easy games but perhaps the one we're most looking forward to is the visit of Nottingham to the Butts Park Arena over Christmas when I'm sure the ground will be packed out and the atmosphere will be incredible."
The Championship's later-than-usual start is due to the 2023 World Cup being played in France during September and October. During this spell Cov are scheduled to participate in a new cup competition featuring both Premiership and Championship clubs about which details are yet to emerge.
The Blue-and-Whites have also announced a pre-season home friendly against National One Leicester Lions on Saturday August 19th.
Cov's chief executive Nick Johnston said his club is aiming to build on its successful 2022/23 campaign and that he believes the city will get behind them in numbers.
"Under the direction of a Coventry-born head coach our exciting young squad played some brilliant rugby last season and thoroughly deserved to go so close to lifting the title," he said.
"Our 3G pitch is ideally suited to a fast, flowing attacking game and no-one who came to the Butts left disappointed with what they saw.
"With everything that has happened in the last year we now find ourselves the leading rugby club not just in our city but also in the wider West Midlands.
"Season Membership sales are already very strong and we are hoping we can pack out the Butts for all our home games and make it a real rugby hot bed where visiting teams fear coming."
Get your 2023/24 Season Membership here.
Head to the Championship website to read more on the season structure including the new play-off structure.