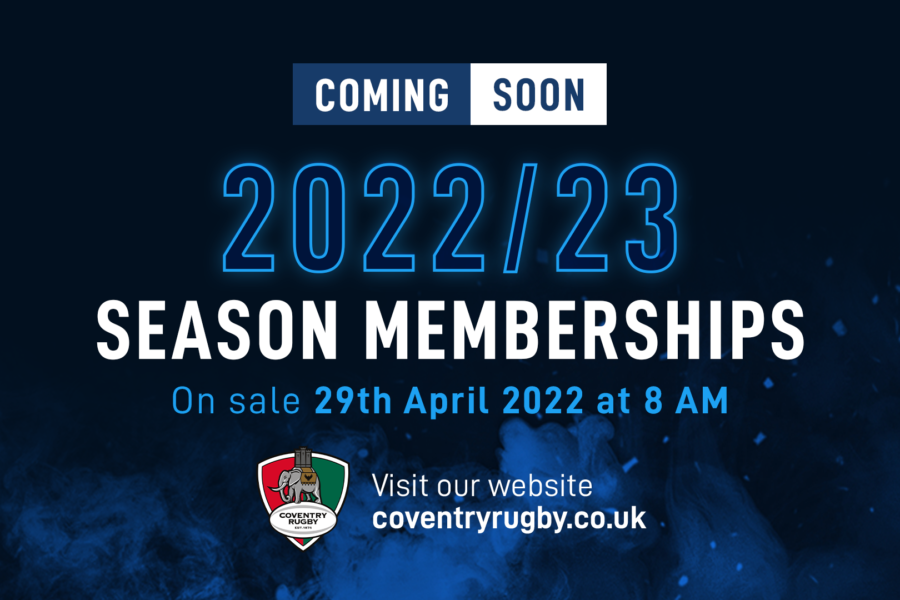 Early-bird Season Memberships go on sale/renewal for Coventry Rugby's 2022/23 season on the 29th April 2022.
We are offering four packages for the upcoming season (click on the highlighted segment below to find more information about each package):
U16 Memberships remain free. U16s have to pay entry at the gate / in advance – therefore, getting our U16 Membership for your kids is a great way to save yourself some money next season… simply add on the U16 option at checkout.
Members with disabilities… You'll get a Blue+White Membership at a discounted rate. Please call Butts Park Arena on 024 7623 1001 Monday-Friday 12-4 pm and we'll help you order your membership.  Alternatively, email our enquiries inbox. 
All Memberships include entry to 14 guaranteed home games including League, Cup and pre-season friendlies (dates, times and opposition TBC). Your membership also grants you access to any bonus fixtures during the season like the Army, RAF and Armed Forces that took place during the 2021/22 season. Benefits then differentiate depending on the package.
Existing 2021/22 Season Members will be able to rebook their current seats until the 1st of June 2022. The seats will then be released and we will no longer be able to guarantee Season Members their same seat.
Prices for Season Memberships will rise on the 1st of June 2022. Book now to save money!
How to book
If you are an existing Season Member please click renew below. You will need the email used on your account to log in and renew. Please refer to the email correspondence from the club for more guidance.
If you didn't have a Season Membership last season and wish to buy one for the 2022/23 season, click purchase below.
If you wish to set up a direct debit, please enter 'directdebit2022' into the voucher code area and we will contact you to set up payment.
If you have any issues, please call the Butts Park Arena on 024 7623 1001 (Monday to Friday – 12.00 pm to 4.00 pm). You'll need to pay via credit or debit card and have a valid email address. Alternatively, email our enquiries inbox.  

You'll receive a confirmation email to confirm your purchase. We will later release an update on when you can expect to receive your Season Member cards.
Click here to renew | Click here to purchase.
Our last game of the season is on the 8th of June 2022 against Doncaster Knights in the quarter-finals of the Championship Cup (KO 3 pm). Coventry Rugby wishes our valued Season Members a very happy summer and looks forward to welcoming back new and existing Members for the 2022/23 season.