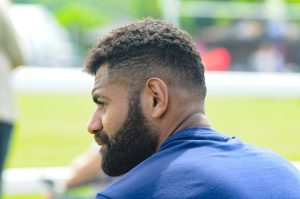 Junior Bulumakau, 27, is a Fijian-born Scottish international sevens player and started his XV's playing career with PRO 14 club Glasgow Warriors, where he managed eight first team appearances, scoring three tries in five starts.
Before this the 27-year-old was a serving infantryman with The Royal Scots Borderers, 1st Battalion with The Royal Regiment of Scotland.
In 2017 Junior joined younger brother Andy at Castle Park with Championship outfit Doncaster Knights ahead of the 2016/17 season.
Junior has since represented Coventry in the 2018 Olney 7's Sports Punk Open where the Nighthawks were victorious in winning the title.
---
15 Questions with Junior Bulumakau
Age: 27
Place of birth: Fiji
Height: 6'0
Weight: 96kg
Where did You start playing rugby: Fiji
Career highlight to date: Getting my first cap for Scotland 7s in New Zealand.
Why did you join Coventry: To play free flowing rugby and play with an ambitious team.
What are you most looking forward to at Coventry: My first run out at Butts Park and meeting all the fans.
Tell me something interesting about yourself: Before I joined the Army I weighed 22 stone.
If you weren't playing rugby, what would you be doing: I'm still a soldier in the British Army. Fortunately, they allow me time off to pursue my rugby career too. So I'd be a full time soldier.
Do you follow any other sports: Football and Basketball.
Favourite music artist/band: R&B and Hip Hop. Some say I've got moves like Chris Brown!
Favourite all time player: My Dad! He played 7's for Fiji and the British Army
Favourite movie: Grease and Bridget Jones' Diary
Jonny Wilkinson or Dan Carter and why: Dan Carter! I've always been inspired by the way he plays since watching him play for the Crusaders when I was young.