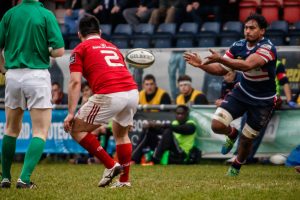 Sydney-born Ram, 31, can play across the back row and represented Tonga at the 2015 World Cup, he has won 13 caps for his country and has also represented Tonga 7s.
Ram played for Northland in New Zealand and also made two appearances for Auckland Blues, before moving to Doncaster midway through the 2016/17 season.
He was voted players' player of the season at Castle Park and also named in the Championship Dream Team which was selected by the coaches of the 12 Championship clubs.
After going back to New Zealand for Northland's season, he returned to Doncaster in November 2017.
We look forward to seeing Ram add his vast experience to the squad during our return to the Championship.
---
15 Questions with Jack Ram
Age: 31
Place of birth: Sydney, Australia.
Height: 1.83m
Weight: 105kg
Where did You start play rugby: In Tonga at high school
Career highlight to date: Man of the match at the 2015 Rugby World Cup vs Namibia
Why did you join Coventry: Want to experience their style of rugby
What are you most looking forward to at Coventry: Wearing the Coventry jersey on the field alongside the boys
Tell me something interesting about yourself the fans would like: N/A
If you weren't playingrugby, what would you be doing: I'll be back in the island farming
Do you follow any other sports: Not really
Favourite music artist/band: Westlife
Favourite all time player: George Smith
Favourite movie: Pirates of the Caribbean
JonnyWilkinson or Dan Carter and why: Dan Carter because he has won back to back Rugby World Cup titlesand plus I have played against him