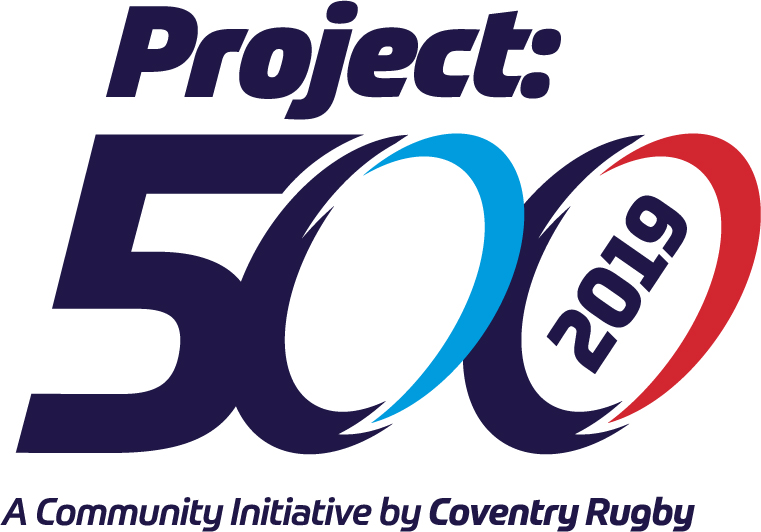 Coventry Rugby has today unveiled Project:500, a groundbreaking initiative that will use rugby to bring positivity and hope to the many children in the city who are living below the poverty line.
An estimated 16,000 children in the city of Coventry currently live below the poverty line. For them a day at the rugby, or the opportunity to play a new sport, or simply make new friends outside their immediate family or neighbourhood, may very well be a struggle.
Furthermore, a child in poverty is more likely to have poor physical and mental health; a low sense of well-being; to underachieve at school; experience social deprivation, stigma and bullying; and have employment difficulties in adult life.
Project:500 is aiming to alleviate such problems by combining the core values of rugby union and the legendary community spirit which has united the people of Coventry for many years.
There are two parts to the project:
Part 1 Each child is gifted a place at a specially designed rugby camp to engage and inspire him or her. The camp will give the child the opportunity to learn about subjects such as nutrition, exercise and wellness. They will also take part in rugby training sessions with members of the Coventry first team
Part 2 Each child will be enrolled into the Cov Juniors Club and be given their own Coventry Rugby replica shirt. They will also be gifted a special Season Pass, giving the parent/guardian and child the opportunity to bond at every home game at the Butts Park Arena for the 2019/20 season
Project:500's initial target is to have 500 children as part of the initiative in its first year and Coventry Rugby Chairman Jon Sharp says that he is looking forward to it becoming a significant part of the club's community programme.
"Rugby is renowned for its ability to inspire and engage children and young people, and we're delighted to be launching Project:500," he said.
"A life in poverty can be devastating for a child, both in how they are living now and also in limiting their prospects for the future, and Project:500 is about giving them the inspiration they need.
"We want Coventry Rugby to be a club at the heart of our city, and Project:500 does exactly that. To the best of our knowledge no other club is running an initiative like this, so I'm proud that we are leading the way.
"The response we have had in discussions with potential donors has already been extremely positive and places have been granted already. Although our target is 500 children there is no upper limit, and hopefully our city's people and businesses will get behind this project, following the example set by some of our important partners."
Each place on Project:500 costs £350. Coventry Rugby is subsiding 40 percent of the costs, but the club is seeking individuals or companies who are willing to cover the remaining 60 percent, equivalent to £200.
A number of Coventry Rugby's key partners have already pledged their support, including Band Hatton Button, Askews, Robinson Manufacturing Ltd and Coventry Scale.
To thank them for their support each donor will have their name on a dedicated wall at the Butts Park Arena and on the Coventry Rugby website. Companies or individuals who donate five or more places will also receive two tickets to the 2019/20 End of Season Dinner, and companies or individuals who donate 10 or more places will receive tickets to the opening match of the season.
The club will be working with Coventry's schools and relevant local stakeholders to identify children and families who would benefit from being part of Project:500 over the course of the summer and then going forward.
To find out more contact Toby Costar via tcostar@coventryrugby.co.uk