By John Wilkinson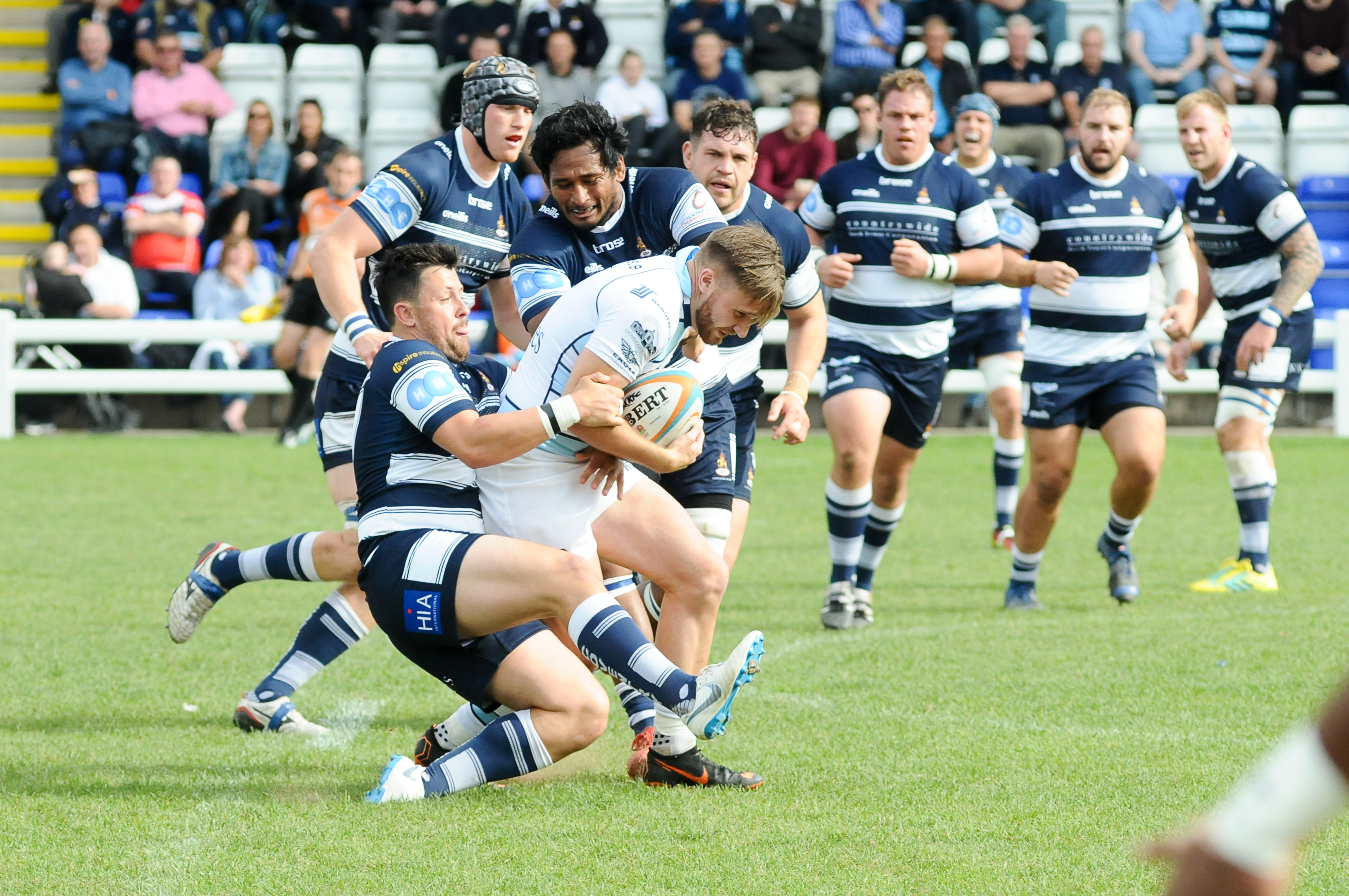 COVENTRY'S coaches asked for a response after Sunday's defeat in Cornwall, and how they got one as the Blue and Whites held out in an edge-of-the-seat finish to secure their second Championship win of the season and end Bedford's unbeaten start in a rousing encounter at Butts Park Arena today.
Cov scored 21 points in a devastating nine-minute spell in the first half, playing some outstanding rugby, as they built a 29-7 lead, but Bedford steadily clawed their way back after the break, and Cov were hanging on in the closing stages with a man in the sin bin.
It became a real test of character, but Cov showed superb defensive resilience to survive in front of another 2,000-plus crowd and take maximum points from the first meeting between the two old rivals for nine seasons.
Cov's director of rugby, Rowland Winter was delighted with the outcome. "There were things we needed to work on from Sunday, being clinical and taking our chances, and we had a hot spell of about 15 minutes in the first half when everything we tried came off," he said.
"That's the Coventry we want to see consistently.
"We made things difficult for ourselves as the second half went on and maybe we tired a bit in thought with the six-day turn round being a factor, but we'd asked for a response and for the large part we got it. A win against a top four side like Bedford is pleasing and gives us a lot of confidence going forward."
Jake Sharp, making his Cov debut against his former club, kicked an opening penalty, but Bedford responded with a try wide out on the right from Jamie Elliott which was well converted by Ed Coulson.
Cov regained the lead towards the end of the first quarter when Bedford overthrew at a line-out and Ben Nutley led a counter move for Andy Bulumakau – also on his debut – to race through between the posts, Sharp converting.
And Cov added two more tries in quick succession to leave their visitors reeling – Nutley again prominent before Tom Kessell raced over, and Tony Fenner finishing off after a surging run by Jack Ram with the Bedford defence in tatters, Sharp converting both for a 24-7 lead.
Kessell then burrowed over in the left corner for his second try on 34 minutes on the end of a long break by Tom Jubb as Cov continued to find space, but Bedford closed out the half with a Ryan Hutler try and conversion and penalty from Coulson to get them right back in the game.
Kessell was denied his hat-trick by a forward pass soon after the restart, but Adam Peters claimed Cov's fifth try midway through the third quarter when the ball went wide from a line-out, but as the penalty count mounted against Cov, Bedford pushed forward relentlessly and tries from Hutler and Harry Davies cut the gap to a single score with James Voss in the sin bin, Sharp missing a relatively straight-forward penalty attempt, and Cov defending for all they were worth.
Coventry
Tries: A Bulumakau 19, Kessell 22, 34, Fenner 28, Peters 49
Conversions: Sharp 20, 23, 28
Penalty: Sharp 8
Bedford
Tries: Elliott 15, Hutler 39, 61, Davies 68
Conversions: Coulson 16, 40
Penalty: Coulson 40
COVENTRY: Fenner; Knox, A Bulumakau, Tuitupou, J Bulumakau (Gray 78); Sharp, Kessell (White 66); Gibbons (Jeannot 66, Boulton 80), Tolmie (Nilsen 49), Boulton (Beech 47), Jubb, Voss, Peters, Ram, Nutley (Adams 47).
BEDFORD: Lane; Hutler, Elliott, Strachan, Adamson (Davies h-t); Coulson, Dickson; McCarthy (Parilli-Ocampo 48), Clare, Penny (Cooper 48), Carrick-Smith (Taylor 52), Curry, Rae, Worthington (Blanchet-Dufresne 52, Worthington 57, Fields 67), Williams.
REFEREE: John Meredith
ATTENDANCE: 2.058