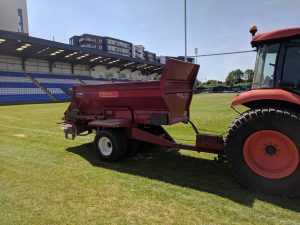 As the 2018 rugby union comes to a close, it's time to look forward to an exciting NEW SEASON in the championship. But before we go head long into the new season we have the small matter of pitch renovation which has started this week (14 May 2018)
As most of our supporters are aware we are now accommodating Coventry United Football Club as well as our resident Rugby League partners Coventry Bears. So this season our pitch has had more than its fair share of use, and a prolonged spell of wet weather over the winter period did not help.
This season we are delighted to have the services of Lakeside Ground Maintenance to facilitate our pitch renovations. Working closely with our groundsman they will be verti draining, sanding, seeding fertilising ( The usual summer treatment for all sports pitches) Lakeside are a local company, Coventry based who have for many years worked across the midlands and further afield helping maintain sports pitches.
We may add that Lakeside Ground Maintenance were a major sponsor on the last game of the season (Coventry v Hull)  when we had our friends from the City of Culture in attendance.   Lakeside have been ever present during the year to give advice and supported to the club when needed. The company (Lakeside Ground Maintenance) is owned by an ex Coventry Rugby Player Dave Fowler Simmons and along with his sons are committed to giving their customers great service and support.
For further details on Lakeside Ground Maintenance click here